[2023] AWS Certified Cloud Practitioner (CLF-C01) - Exams
Practice exams with explanations and references to obtain the AWS Certified Cloud Practitioner (CLF-C01) certification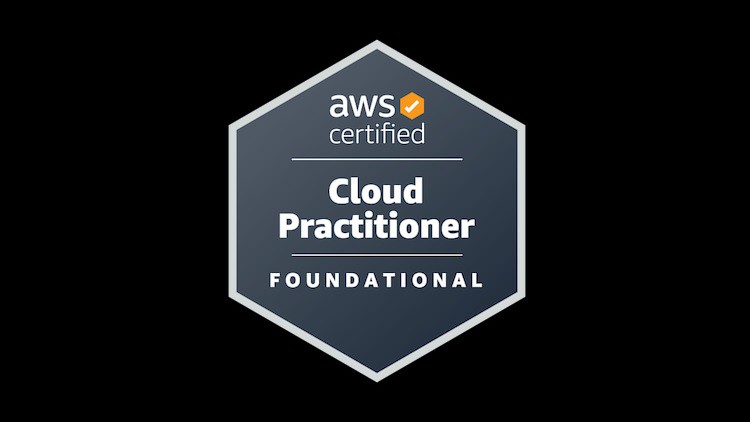 What you will learn
Define what the AWS Cloud is and the basic global infrastructure
Describe basic AWS Cloud architectural principles
Describe the AWS Cloud value proposition
Describe key services on the AWS platform and their common use cases (for example, compute and analytics)
Describe the basic security and compliance aspects of the AWS platform and the shared security model
Define the billing, account management, and pricing models
Identify sources of documentation or technical assistance (for example, whitepapers or support tickets)
Describe basic characteristics of deploying and operating in the AWS Cloud
Description
The AWS Certified Cloud Practitioner (CLF-C01) examination is for anyone looking to learn and understand the core offerings of the Amazon AWS Cloud. It is intended for individuals who have no prior knowledge of Amazon AWS and who wish to progress their career by effectively demonstrating an overall understanding of the AWS Cloud, its services, and how it can help deliver cost-effective IT solutions to meet the demands of the business. The AWS Certified Cloud Practitioner is designed for IT personnel with no cloud experience as well as personnel from other verticals such as sales, marketing, finance, and law who are required to understand the core benefits offered by cloud computing and specifically by Amazon AWS.
As an AWS Certified Cloud Practitioner, you will be able to demonstrate a detailed understanding of cloud concepts, AWS services, security, architecture, pricing, and support.
The main characteristics of the AWS Certified Cloud Practitioner (CLF-C01) exam are:
AWS Certified Cloud Practitioner Exam Guide:

Approximately 75% marks are required to pass the exam.

Domains of the exam:

Security and Compliance: 25%



What will you get with this course?
6 Practice exams that simulate the true exam environment

Detailed explanations of all questions and answers with reference links

390 Questions

Instructor support

30-Day Money Back Guarantee



Content
AWS Certified Cloud Practitioner - Practice Exam #6
Reviews
the sample questions are very good and covers the different aspects of the AWS practitioner very well.
This exam is really helpful. I passed AWS certified cloud practitioner exam today! Thank you to the Author!
Feeling like this is good and useful to practise and we will get the detailed explanation and analysis done for answers.
Muito legal os simulados, muitas questões e com link para validar as repostas, parabéns pelo conteúdo, consegui passar na prova, fazendo alguns dos simulados. Obrigado!
Aprobé la certificación cloud practitioner!!! (13/4/23). Varias de estas preguntas aparecen en el examen. No es muy complicado, exitos a todoss :)
Abdullah
December 13, 2022
Test latihan dilengkapi dengan penjelasan setiap soal yang sangat bermanfaat.. Recommended Course for everyone want to take CCP Exam
Christophe
December 9, 2022
- Je trouve le niveau plus difficile que les vraies questions de la certification. - On fait le tour de tous les services. - Utilise la même formulation que la certification.
Coupons
| Submit by | Date | Coupon Code | Discount | Emitted/Used | Status |
| --- | --- | --- | --- | --- | --- |
| - | 10/30/2022 | 4686763F9E5B2AEA364C | 100% OFF | 1000/869 | expired |
| - | 10/31/2022 | 04257326FEB0C4B14106 | 100% OFF | 1000/704 | expired |
| - | 11/1/2022 | 60398971E27B1AAED0DB | 100% OFF | 1000/835 | expired |
| - | 11/8/2022 | 0918C07D511041D91908 | 100% OFF | 1000/148 | expired |
| - | 11/16/2022 | 5808D90DEE6BD0B0ACFC | 100% OFF | 1000/839 | expired |
| - | 11/23/2022 | 85401B75371D2F6BCE35 | 100% OFF | 1000/889 | expired |
| - | 12/6/2022 | 8F611DB68F8E359A7006 | 100% OFF | 1000/602 | expired |
| - | 12/14/2022 | A2250F8B3F7985C3A9EC | 100% OFF | 1000/952 | expired |
| - | 12/23/2022 | D5B36817B2FD9BC252B8 | 100% OFF | 1000/947 | expired |
| - | 1/3/2023 | 274CD2F63B07D9106654 | 100% OFF | 1000/990 | expired |
| - | 1/16/2023 | A23459F22B3E1CE47D01 | 100% OFF | 1000/985 | expired |
| - | 1/24/2023 | AEDBED9CF30E69B38579 | 100% OFF | 1000/939 | expired |
| - | 2/6/2023 | 11FF8B33A38ED17C4582 | 100% OFF | 1000/844 | expired |
| - | 2/21/2023 | BFA484763EF4A21E314A | 100% OFF | 1000/718 | expired |
| - | 3/6/2023 | 501A74B1139EE895AE0A | 100% OFF | 1000/975 | expired |
| - | 3/22/2023 | 34E780EFE014000B112C | 100% OFF | 1000/875 | expired |
| - | 3/28/2023 | 7830C498FFFB5ED010B8 | 100% OFF | 1000/769 | expired |
| - | 4/11/2023 | AB585132AA594121F6E4 | 100% OFF | 1000/480 | expired |
| - | 4/23/2023 | F10B92649C3673077511 | 100% OFF | 1000/842 | expired |
| - | 5/9/2023 | E70D5EFD88D343AD05E3 | 100% OFF | 1000/391 | expired |
| - | 5/16/2023 | BE6B30AC4CBF5D439974 | 100% OFF | 1000/297 | expired |
| - | 5/27/2023 | 17186D0A7A598B2AC989 | 100% OFF | 1000/258 | expired |
| - | 6/6/2023 | 15B7441EF3473E4718EE | 100% OFF | 1000/298 | expired |
| - | 6/20/2023 | FA7BD48E7511F752999B | 100% OFF | 1000/847 | expired |
| - | 7/4/2023 | 3BF43126C8D1E1F24219 | 100% OFF | 1000/515 | expired |
| - | 7/27/2023 | 6775B38D7B313FA0818D | 100% OFF | 1000/959 | expired |
| - | 8/25/2023 | DE245A4BEA9299476290 | 100% OFF | 1000/405 | expired |
| - | 9/14/2023 | 307DA54BDF7EFF3DAA5C | 100% OFF | 1000/535 | expired |
| - | 10/19/2023 | 16FC2DCB887A8BF54BA1 | 100% OFF | 1000/816 | expired |
| - | 11/7/2023 | 590768C7C4BBFFF7079C | 100% OFF | 1000/531 | expired |
| - | 11/19/2023 | B2BDEC779905247BD5C0 | 100% OFF | 1000/896 | expired |
Charts
Price
Rating
Enrollment distribution
10/23/2022
course created date
10/30/2022
course indexed date