Autodesk Revit - beginner to an intermediate level
Includes 1 main project, 15 quizzes & a Final Exam. For users of Revit 2018 and above
Architectural Design
category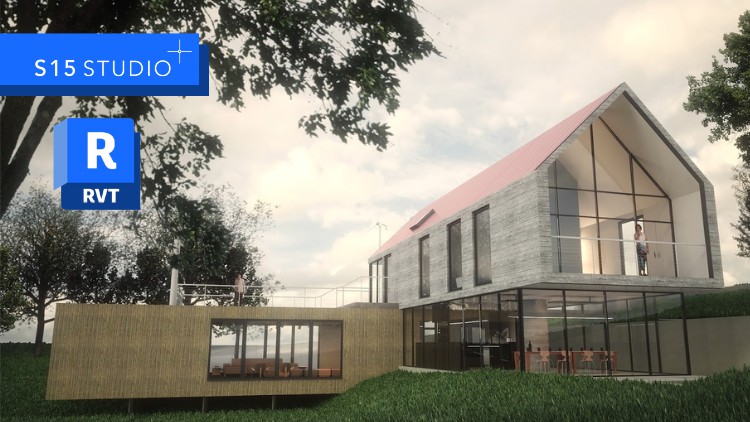 What you will learn
When you complete this course you will have the skills and knowledge to take a project from start to finish using the tools and library provided by Autodesk.
First I will take you through the download and install process to ensure the software has been correctly installed.
Now with 15 added quizzes, at the end of every section.
After completing the course, I have created a 40 question exam, testing you on both skill and knowledge
Now with Imperial notes to follow along!
This course is available to download for offline use.
Description
Autodesk Revit – For the Beginner user, bringing them right up to an intermediate level!
Course Content
First, I will guide you through the installation process, ensuring you have installed the correct library and region template. I will be using the UK Metric library and templates but don't worry if you want to use another. All the processes will be the same and if I use a component from the UK library that isn't available in your library, I will always suggest one for you.
As with BIM, you work solely on one single project, so I have constructed this course in the same way.
If you do not have previous experience with Revit or any CAD-based software, don't worry. I will start off from the beginning building you up to be more than capable of creating your own Revit models.
The course will start off by giving a brief introduction to the fundamentals of a building, what BIM is, and then moving onto the basics of Revit; from the terminology that Revit uses to the tools and interface.
We will then begin to build on our project, introducing a new tool and feature as we progress.
Adding in the datum elements, such as the levels and grids.
Structural components, such as the Structural and Architectural columns
Major and Minor Components like the; walls, windows, doors, floors, stairs, ceilings, curtain walls, and roofs.
We will then take it to the next level and learn how to create 2D details, how to tag the components, create schedules & legends, creating render images and video walkthroughs.
Finally, we will set up our sheets and send it to print.
Alongside the videos, I have supplied you with course notes to follow along with as well as some files to work with.
As a recap, I have added a quiz to every section. This won't affect your final certificate but will refresh what you have just learned.
Once you complete the course, why not test out your new skills by taking the final exam, consisting of 40 questions!
Finally, I continually update this course to keep it up to date with the new releases as well as add new videos.
I look forward to seeing you in class!
Content
Touring the Interface
1.1 Start Screen
1.2 File Tab, Quick Access Toolbar & Info Centre
1.3 Tabs, Ribbons & Panels
1.4 Properties Palette & Project Browser
1.5 Status Bar, View Controls, Selection Toggles & Context Menu
1.6 Navigating the Drawing Area
1.7 Contextual Tab
1.8 Terminology
Introduction to Walls
2.1 Introduction to Walls & the Wall Panel
2.2 Wall Option Bar
2.3 Wall Properties Palette
Basic Tools
3.1 Align, Offset, Mirror – Pick Axis, Mirror – Draw Axis
3.2 Move, Copy, Rotate, Trim/Extend to corner, T/E single element, T/E multiple
3.3 Split element, Pin, Array, Scale, Delete
Datum Elements
4.1 Defining the buildings levels & creating reference levels
4.2 Creating the Grid system
Major Components
5.1 Placing Structural Columns on the grid
5.2 Placing Architectural Columns on the grid
5.3 Placing the External Walls
5.4 Placing the Internal Wall
5.5 Using the Equality Constraints
5.6 Placing the Ground Floor slab
5.7 Placing a boundary footpath
Minor Components
6.1 Placing Doors from the Type Selector
6.2 Loading Doors from the Library
6.3 Creating a new Door Type
6.4 Adding a Wall Opening
6.5 Editing the Walls Profile to create an opening
6.6 Adding a Structural Opening to the wall
6.7 Placing Windows
Creating the next level
7.1 Increasing Top Constraint
7.2 Placing the First Floor slab
7.3 Adding a Shaft Opening to the slab
7.4 Selection Filter and Aligned to Selected Levels
Vertical Circulation
8.1 Stair by Component
8.2 Stair by Sketch
8.3 Creating project stair
8.4 Placing a Railing
8.5 Creating a Railing
Roof Component
9.1 Introduction to Roof by Footprint
9.2 Pitched roof by Footprint
9.3 Flat roof by Footprint
9.4 Roof by Extrusion
Curtain Walls
10.1 Introduction to Curtain Walls
10.2 Constructing a Curtain Wall
10.3 Create 'Curtain Wall – Entrance'
10.4 Create 'Curtain Wall – Rear'
10.5 Create 'Curtain Wall – Front'
Reflected Ceiling Plan
11.1 Introduction to Reflected Ceilings
11.2 Adjusting the Ceiling position
11.3 Creating the First Floor Ceiling Plan
11.4 Adding Components to the Ceiling
11.5 Example of Rendered ceiling components
Creating a 2D Detail (Callout)
12.1 Setting up a Callout
12.2 Masking and Filled Regions
12.3 Detail Components and Repeating Detail Components
12.4 Placing Insulation
12.5 Using the Detail Line and Creating a Line Style
12.6 Adding Text with Leaders
12.7 Adding Break Lines
Dimensions
13.1 Introduction to Dimensions by Individual References
13.2 Dimension by Entire Wall
13.3 Witness Lines
13.4 Modifying a Dimension
Tags, Schedules & Legends
14.1 Introduction to Tags
14.2 Adding information to the Tags
14.3 Placing Window Tags
14.4 Placing Wall Tags
14.5 Applying Tags to First Floor
14.6 Creating a Room and Placing Room Tags
14.7 Creating a Room Legend
14.8 Creating a Room Schedule
14.9 Creating a Door Schedule
14.10 Creating a Window Schedule
14.11 Creating a Door & Window Legend
Visualisations
15.1 Introduction to Shadows and Sun settings
15.2 Creating a One-Day Solar Study
15.3 Introduction to Rendering and Rendering first image
15.4 Rendering second image
15.5 Introduction to Walkthroughs
15.6 Modifying a Walkthrough
15.7 Creating a Walkthrough over two levels
Create Sheets & Print
16.1 Opening a Sheet and overview of the Title-block
16.2 Setting up a Sheet part 1
16.3 Setting up a Sheet part 2
16.4 Adding Render views & Callouts to Sheet
16.5 Loading an A2 Title-block
16.6 Duplicating views
16.7 Page Setup & Printing
Reviews
This course was so amazing and easy to follow thanks to the tutor Steve. I enjoyed it so much i have purchased the next one by him.
as i am familiar with autocad so the basic info are well known. im looking forward and exited to know the rest and start using REVIT as a professional
This course is exactly what I was hoping for. I had no prior experience with this software before and this course clearly explains each tool as the instructor uses it and explains each component & their properties as they are added
Great coverage of the main tools used in Revit, I use Revit professionally and still learnt a few things.
Nicely explained. But can i get more help on roof chapters especially the 51 lecture roof by extrusion and work planes. I am unable to understand that. Thank You.
yes,ofcourse it is a good decision recomended by my cousin brother-in-law of taking udemy and giving a good instruction to study via online.i have studied revit in an institution but due to some problems i cannot make it up.so i have to choose a better decision, on the part my brother instructed me to this platform.thank you udemy an their wonderful instructors and courses provided online.
Shannon
September 20, 2023
Course didn't use the most current version of Revit, so there are some differences in the program vs. the course. It was hard to follow along in a few places. It would be nice to know how to revise things after creation or if there is an easy way to do it, such as moving grid lines and associated walls and editing curtain walls. Would also be nice to know how to set up a title block. In general very useful, though.
Excellent on every level. Understandable, slow and descriptive where need to be and no wasted motion. Everything that is utilized and built during the class was meaningful and compounded the learning.
Michael
September 12, 2023
My version is 2024 Multidiscipline Metric/Imperial. Couldn't get UK library to load, thus couldn't follow along with families.
too fast, hard to follow all the file setup instructions. I'm also in the US so I'm having to remember to to the opposite of what is being asked when we are deleting items for file setup.
This is the best Revit course. It's to the point, yet it covers all the essential basics, ensuring I won't feel lost when I undertake my own projects in the future. Unlike most courses that often become overly lengthy and explain things we never end up using, this one stands out as truly exceptional! (Usually, I find most courses that teach program usage to be monotonous, but this one is genuinely engaging =))
The Audio quality that was used in the Introduction was way clear than the audio used for the actual paid content. The content is good but it couldve been improved by using a proper or better setup for audio, as the audio quality of the demo vd was way better
* The topics and the explanation of the tools were arranged in a very smart sequence, and in terms of responding to the questions, you feel that you are talking in a chat box, meaning that the answer is very fast. * The questions in the quizzes are selected in a way that reminds you of the most important topics and in a way that makes you able to distinguish between different terms in the field * The English language used is very impressive for non-native speakers
There are some noticeable difference between the version in the video and the 2023 version which made it a bit difficult at times
So helpful and engaging! Definitely feel more equipped to tackle my university projects now. Thank you so much Steve!!
Coupons
| Submit by | Date | Coupon Code | Discount | Emitted/Used | Status |
| --- | --- | --- | --- | --- | --- |
| - | 5/4/2022 | C133D15136537F9BBFD9 | 100% OFF | 1000/767 | expired |
| - | 6/8/2022 | BECC2C14EC8D33337EC6 | 100% OFF | 1000/783 | expired |
| - | 7/4/2022 | 7433F13950001F203904 | 100% OFF | 1000/921 | expired |
| - | 8/8/2022 | C690B7393ADE832F26E9 | 100% OFF | 1000/976 | expired |
| - | 9/18/2022 | 1AD7EBEDA2F7CD30F3EC | 100% OFF | 1000/903 | expired |
| - | 10/12/2022 | 469DE2815FB15847D3E7 | 100% OFF | 1000/805 | expired |
| - | 11/24/2022 | 2523E375CC89DBF4C365 | 100% OFF | 1000/955 | expired |
| - | 12/20/2022 | 06CFC8776C9B98F600DD | 100% OFF | 1000/947 | expired |
| - | 1/17/2023 | AF18708B1E688D006E41 | 100% OFF | 1000/840 | expired |
Charts
Price
Rating
Enrollment distribution
7/2/2018
course created date
8/26/2019
course indexed date