Analytics & Data Science for managers & humanitarians
* * Professional Course in Analytics for humanitarians* * Main methods for hidden regularities and patterns findings.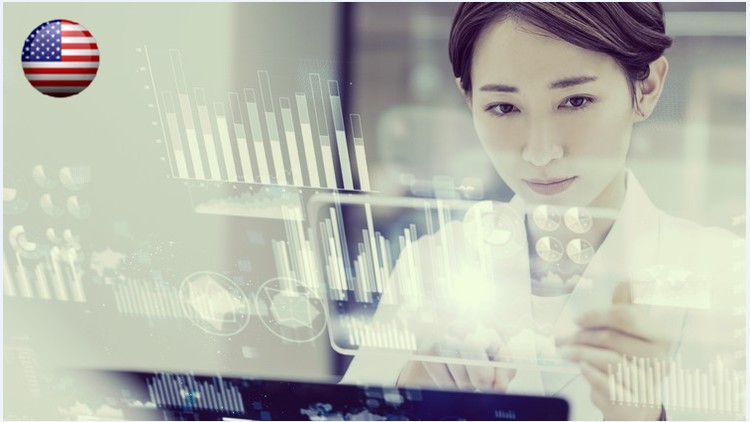 What you will learn
The main fundamentals of Statistics that need to know for practical issues solutions
Calculate sample size
Simple find hidden regularities (patterns) in data
Analyze big data files
Understand importance to combine intuition with data analysis
Step-by-step use most popular data science methods for humanitarian with your own hands
Modern statistical methods in practice and real-life data of business-cases (from descriptive statistics and compare samples - to linear and logistic regression, cluster analysis, reliability and factor analysis.
***OFFICIAL*** simple reliable statistical data analysis tool PSPP (replacement for the proprietary program SPSS and very similar to it)
Description
For english-speaking students from russian-speaking scientist: the author of Russian best-seller "ANALYTICS AND DATA SCIENCE: for non-analysts and 100% humanitarians..." (is sold in largest online stores: AMAZON, OZON, LitRes, RIDERO...russian edition only)




The Instructor is practioner with over 20 years of experience using data science and analytics to drive meaningful improvements and strategic business decisions. Also he is one of Udmy's top Russian instructor in category "Business" and the master of statistical tools (from Excel and SPSS to programming language R). He is creator of MBA program and number of trainings for top and senior management of international corporations.




The course very gradually (step-by-step, from simple to complex) plunges non-technical sciences professionals (management, business, marketing, humanitarians, linguists, psychologists, sociologists, cultural scientists, economists, politologists, forensics, etc.) into an exciting digital world of statistics and probabilities - and will help to easily navigate, use and not be afraid of it




The course will also be suitable for professional engineering and technical disciplines who have not studied data analysis, but want to understand it - without terrible formulas and cumbersome calculations




The course is based on the most up-to-date materials, which were read on MBA programs and used in different projects (marketing and sociological research, personnel research, opinion surveys, development of psychodiagnostic tools and tests, analysis and forecasting, reorganization, staffing, remuneration, etc.)




The materials are sufficient as for the beginner or newcomer (student or specialist first time faced with statistics ), as for experienced professionals who wish to systematized knowledge, and also looked at effective application in management decisions of even such basic thing as descriptive statistics (mean, median, quartile).




The author collected and very "keep it simple" explained the most popular methods of statistical analysis and prognostic analytic that are universal for all sciences and professions. He gives only applied useable methods and concepts that completely enough for humanitarians in their work




A very fascinating course about numbers and data that seem to non-technical professionals so boring and obscure...
Content
INTRO
What is that? Couple slides for Dummies...
Course intro from your Instructor
Are you come here just out of curiosity only?
How We Will Learn
SOME REFININGS AROUND ANALYTIC as a subject of this cource
Particularities of analytic in Socio-Economical environment
The Model
Intuition AND Analytics
So many English words: regularities, patterns, trends, tendencies...
Data, Statistics, Metrics, KPIs - and Analytics...
Maturity Levels of Corporate analytical function
Analytical Tools (Excel, SPSS, Statistica, R...and PSPP)
SUMMARY
Check yourself by test
INTRODUCTION TO STATISTICAL ANALYSIS - basic concepts for this cource
Statistical Analysis
General population & Sample
Sample size calculation
Variables
Scales of variables
DATA ARRAY for analysis
Hypothesis
H0 and H1; Type I and Type II Error
Merge H0, H1, Error Probability (Type I) and Sig.
Probability
Normal Distribution
SUMMARY
Test yourself again!
MEET OUR ANALYTICAL TOOLs: Excel and PSPP
Why both Excel and PSPP
Data Arrays in EXCEL interface
About PSPP
Data Array in PSPP interface
Import data to PSPP
DESCRIPTIVE STATISTICS
Descriptive statistics essence
Frequencies
Mean (average)
Mode and Median
Min and Max
Percentiles, quartiles, deciles
Measures of variability
Measures for describe distribution: Skewness and Kurtosis
Outliers
Descriptive Statistics Section SUMMARY
Descriptive statistics in PSPP
ANALYTICAL STATISTICS: what is it?
Once again about the peculiarities of socio-economic reality
Core difference from descriptive statistics
Three main "tasks blocks" of analytics
Hypotesis & Probability of Error once again
Remember about normal distribution
ANALYTICAL TASKs BLOCK 1: compare groups (samples)
Purpose (for what its apply)
Statistically Significant Difference once again
Related (paired) & Independent samples
CROSSTABS
INDEPENDENT samples compare
PAIRED (RELATED) samples compare
SUMMARY
Test your knowledge before practical task...
ANALYTICAL TASKs BLOCK 2: relationships and regularities between variables
Dependent and Independent variables
Relationships between variables
Significant statistical relationships
Correlations
Regression
Factor Analysis
Reliability Analysis
HIDDEN REGULARIATIES SUMMARY
ANALYTICAL TASKs BLOCK 3: classification of objects \ cases
Classification intro
Logistic regression
Cluster analysis
Other methods review: discriminant analysis, answer tree, ROC, SVM
Ensembles in Data Science
SUMMARY: classification from "bird 's height"
REVIEW OF THE NEWSPEAK: MACHINE LEARNING, BIG DATA, AI, NEURAL NETWORK
Talk about "new words in new world" :)
Big Data
Artificial Intelligent - AI
Machine Learning - ML
Neural Network
Summary: what should be learned in this course's section
All cource in one picture
Course in 2 minutes
THE END
Charts
Price
Rating
Enrollment distribution
2/1/2020
course created date
3/7/2020
course indexed date