Agile Project Management Utilizing Microsoft Project
Use Microsoft ProjectTo build, plan , and run your agile projects
Project Management
category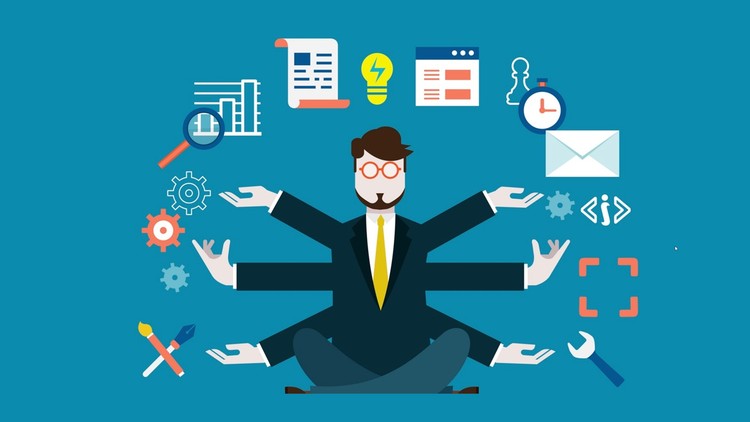 What you will learn
Set Up Microsoft Project For Agile Projects
Set up Custom Views For Product Backlog, Sprint Burn Down. And Project Velocity
Set up Custom Views For Product Backlog, Sprint Burn Down And Project Velocity
Creating Tasks And Features That Work With Points
Agile Resource Management
Tracking Your Agile Team's Progress At The Sprint And Project Level.
Generate Agile Reports For Management
Description
Learn how to use Microsoft Project to manage agile projects. Author Luke Angel covers setting up agile projects for success, creating custom fields to track elements unique to the agile project method, such as features and sprints, and managing and updating agile task lists as work is completed. She also shows how to manage traditionally scheduled tasks and agile work side by side, track agile project progress, generate burndown reports, and determine your team's velocity.
Topics include:

Setting project options
Defining working time
Setting up custom fields and views
Creating tasks
Assigning features to sprints
Assigning resources to tasks
Tracking progress
Generating a burndown report
Content
Introduction
Welcome
Project Management, Agile Style
What You Need To Know
Using The Exercise Files
Choosing The Best Options For Your Agile Project
Agile Project Management: Getting Started
Formalizing Working Time
Managing Features Through Custom Fields
How To Utilize Views To See Features Assigned Releases And Sprints
Keeping An Eye On Velocity Utilizing Custom Fields
Section 2 Quiz
Agile Task List Creation
Setting Up Tasks For Project Initiation And Releases
Creating Nonfeature Tasks For Sprints
Viewing The Product Backlog Utilizing Views
How To Groom Your Backlog
Assigning Resources To Features
Staying On Top Of The Project
Updating Feature Progress
Working With Incomplete Features
Generating A Burndown Report
Section 4 Quiz
Conclusion
Whats Next!
Please Provide Feedback
Extras
Agile Checklists
Utilizing The Tracking Gantt
Reviews
A bit confusing when to use and what reference material to use, got better toward the end. should have more information about adding tasks and how to manage and use checklists and the tracing Gant. seemed that pieces were missing in the reports, some were covered but others were not in particular velocity was not covered or i missed it.
Course is well organized and easy to follow along. Only issue noted is that the last audible lectures were too low.
Instructor doesn't tell you which file to use. He jumps to a page that is not recognizable within the provided files. Moves too fast to follow. Sorry I bought this class.
The instructor moves through the material extremely fast. The resources and courework does not match the class sections and is confusing to follow along with the class.
I am having to constantly restart the videos, due to freezing and receiving error messages. The content so far is pretty good, pretty basic, but still good. I am looking forward to getting deeper into the content.
I think it was a focused course teaching as advertised, I would like the agile terms defined in the beginning or in the resources so that older PM's that don't know all the terms could follow a little better.
The course is very nice: although is a very quick course, if was possible to see how to manage Agile teams using MS Project. It provided some ideas on how to use use MS-Project to control Agile / Scrum, including Sprints, Backlogs and Burndown Graphs.
This is an extremely practical and detailed course - the best I have found in truly showing you how to set up MS Project to organize and track work in an agile framework. I went through it twice. I recommend setting up a project file from scratch and building it as you go through - following along with the course rather than using the sample files. Note that the videos on the setup of the custom fields miss setting up the velocity field, which is crucial for the section on building the report. However, you can find the formula and understand how it is set up by looking at the later sample files. We use JIRA and MS Project. I had previously set up an MS Project template for agile - but this is better. Highly recommended.
Great course thanks. One suggestion - It would be great if you also talked about user stories breakdown in this - I am pretty sure they would be created as a sub task of a feature story within the sprint, but would be a nice addition to round everything out.
It would be good if you start from assigning feature than resource , than time and the representing and bit slow as random back and forth makes bit confusing.
Excellent course! I'm a software developer that wanted to know more about agile managing in Microsoft Project. This course hits the spot!
The material was great and informative. The videos seemed to either stop abruptly before the next though. Meaning that it seemed to cut off some information.
I left the course with a much better understanding of how to set-up a agile project using MS Project. Prior the course I was sceptical at how to utilise MS Project for a number of agile project which will soon be starting, however now I feel confident that I'll be able to deliver a manageable project plan.
It's is a solid course providing what's promised in the discription. What's I liked about the course: 1) it provides a solid basis for starting managing projects with MSProject under the agile methodology. 2) It demostrates several very useful tricks to make PM easier. What to improve: 1) I wish the author devoted a little bit more time on explaning some technical moments, such as explaining how to do filtering and explaining that if you create a custom field each new tasks get this attribute. Overall, a great course.
Great course to get you set up quickly. My only comments are that was described you didn't have to use the pre done projects but could follow along creating your own. No. You had your agile framework tasks but never went over it for the user to follow along. Also editing could use a little work with the transitions. Otherwise really good course.
Charts
Price
Rating
Enrollment distribution
10/19/2016
course created date
7/15/2019
course indexed date