Project Management: Deliver on Time + Scrum Project Delivery
Learn how to Meet Deadlines Consistently with Project Management Essentials using Scrum for Continuous Delivery On Time
Project Management
category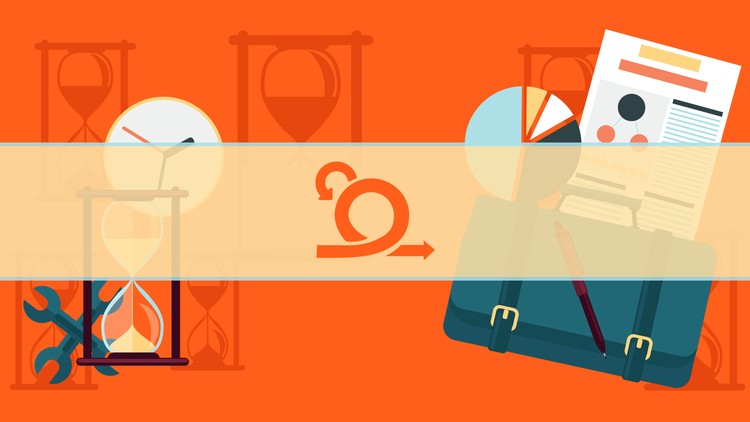 What you will learn
Learn how to meet a project deadline and improve project delivery using agile scrum and project management essentials techniques.
Learn what scrum is and why it is so powerful for delivering projects on time to a high degree of quality
Learn how checklists can be used to help deliver project value on time
Use Checklists to help deliver value on time - Get video and free document scrum checklist for the roles of scrum master, product owner and development team. As well as for all scrum events such as kick off meeting,product backlog estimation and grooming, sprint planning, daily scrum, sprint review and sprint retrospective.
Learn how to use scrum and agile project management techniques product backlog grooming, task buffering, empirical evidence, efficient communication, incentives, scrum checklists, and retrospectives in order for timely project delivery on time consistently
Feel confident in implementing scrum and agile project management essentials techniques for any service, maintenance or support team
Learn how to improve scrum and agile project delivery WITHOUT paying thousands of dollars for training
Understand what agile scrum is and How it helps project management and project delivery to be more effective
Explain what the scrum rules, roles and events are are and how they will make your team or business more efficient
Understand the concepts behind agile checklists, kick off meeting,product backlog estimation and grooming, sprint planning, daily scrum, sprint review and sprint retrospective.
An overview of the agile scrum framework and how it is an agile project management framework used to help you deliver value on time
Description
"Scrum Open, Professional Scrum™, Professional Scrum Master™, PSM, PSM I, PSM 1, etc. is the protected brand of Scrum . org. Our course and practice exams are neither endorsed by nor affiliated with Scrum . org."

Three reasons to TAKE THIS COURSE right now!
The unique reasons for taking this course are:
Complete, Concise, Confident Overview of Project Delivery & Meeting Deadlines using agile scrum - I cover the theory and give you examples of how the theory is used in industry.

Confidence in using Project Delivery & Deadlines techniques using agile scrum In a very simple way, I teach you the fundamentals of scrum and how to use project delivery techniques using agile scrum in industry without going into a class room or spending $£1000..

You get to ask me questions and see me respond to every single one of them thoughtfully!
Includes Narration from Kevin Kollins and Scott Clem.
What is Scrum?
Scrum is a method for managing and completing even the most complex project . Based on my experience, it is the number 1 way to complete projects on time while delivering value for any business or user.
Who should take is course?
Whether you are a Project Manager, Scrum Master, Product Owner, Development Team Member or simply someone who wants the answer to the question "how do i deliver projects on time to a high quality with scrum", this is definitely the class is for you.
What will I learn?
In this class you will learn:
Concise overview of scrum - Including theory, and checklsts for all events, roles, rules and artefacts used to deliver a project , .

The facts based on real industry experience and research - The correct terminology and use of scrum is essential to mastering it. My experience in industry and research into the topic has been used to give you a solid grounding in the most concise way possible.

I give you a complete overview of how to deliver on time with scrum as used in the business work place without having to do a face to face course saving you hundreds if not thousands of dollars.
The course is video based with no supporting document necessary.
How is the course structured?
Each section features an overview of a particular aspect of how to deliver a project on time with agile scrum such as it's theory, practices, tips and examples which are included throughout the course wirh excellent quality video and audio. All is based real world experience.
Inspired by God, the Bible, my mother and father, Ken Schwaber and Jeff Sutherland.
Content
INTRODUCTION to Agile Scrum Project Delivery with Project Management Essentials
Welcome to Project Deadline Training - Project Delivery with Agile Scrum
CONCEPTS: Meeting Project Deadlines with Agile Scrum
Learning Objectives: Project Deadline Concepts
Table of Contents - How to Meet a Project Deadline with Scrum
Introduction - How to Meet a Project Deadline
The importance of requirements being "Ready"
The importance of commiting with confidence
How to use the concept of buffer to deliver tasks on time
How to use Empirical Evidence for timely delivery
How to improve Communication to deliver on time
How to improve delivery by getting a Kick out of delivering on time
TIPS: Pro Tips for Meeting Project Deadlines with Agile Project Management
Learning Objectives: Project Deadline Pro Tips
The Importance of the Scrum Guide
DOWNLOAD: The Scrum Guide
How these Scrum Rules help you with Project Delivery
How to Leverage the Scrum Framework
Use the concept of the Agile Toolkit
How to Leverage the Team
How Respect helps you to deliver on time
How Common Sense helps you to deliver on time
SCRUM CHECKLISTS: for Quality Agile Project Delivery & Meeting Project Deadlines
Learning Objectives: Project Deadline Checklists
Introduction - How to Improve Project Delivery with Scrum Checklists
The Scrum Master Checklist
The Product Owner Checklist
The Development Team Checklist
The Kick Off Meeting Checklist
The Product Backlog Grooming Checklist
The Sprint Planning Checklist
The Daily Scrum Checklist
The Sprint Review Checklist
The Sprint Retrospective Checklist
FEEDBACK: Reviews and Discussion
BONUS MATERIALS
BONUS LECTURE
Reviews
the topics covered is very superficial but well presented. It might be useful to those new to PM or Agile Scrum
The class was very well taught, by far the best Udemy class I have taken. I was not aware SCRUM is more targeted at software development vs automotive project management. There were some good takeaways from the class.
Great.. it is bringing back experiences in my job that I didn't know what they were doing because of no explanation
The course is quite good for learning industrial approach. It helps for improving the project management skills.
This is the first course I take for the basics of SCRUM and it was perfectly explained and understandable. Very enrichment for my day by day activities at my job. Thanks!
The course is excellent in listing practical checklists for all roles and what needs to be done. There is a reference to poker cards and their Fibonnaci numbering sequence. It is not explained what that is for.
Think you know the Agile basics, but things aren't going as smooth as you had hoped. This course gives you insight into some of the most common issues with scrum and things you CAN do to move things in a positive direction.
As a fresher. I have learned a lot in this class. These videos are very useful and knowledgeable. all materials are very simple and easy to understand. Got to know what is what in SCRUM
This course is more on tips to delivery of projects rather than anything to do with agile. No chapter explains in details on process to be followed
Well - Good delineation between Agile and Scrum; Very good descriptions of scrum and agile practices including very good team building reminders; Excellent Checklists for Scrum process. Could be better - Life of project might could be better defined - kick off meeting is described with specific tasks and outcome expected -- but the project finish seems more of a fade out by arriving at the definition of done as agreed in the kickoff meeting. If that is the point, then never mind, but some documentation of lessons learned and description of what has been delivered (in excess or deficiency from requirements) might be useful. Thank you! -
The course so light and simple! what I really liked that it made me more confident about what I learned before! Thank you a lot !!
Great overview and checklist. Would make a 5-star companion to deeper learning IF the checklists were all gathered into a PDF starter pack. Meanwhile, you'll have to build working copies by hand based on taking notes from the (extremely useful) slides.
Weerasak
February 24, 2016
Very Good Udemy Online Learning Course. Thanks you very much. Weerasak Sroykham. IT Consultant Team Lead. Digital Learning Trainer. ITCEducation Group. www.ITCEducation.info .
I enjoyed it and found it very instructive. I gave 4 stars instead of 5 because I think there should be less animations. They keep going on while we hear the explanations and that is deterrent to focus - animations should play only once, IMHO.
I'm new to Project Management and this course really helped me understand Agile and Scrum. The basics were rock solid and I'm planning to address issues in our team using these methods. A very recommended course!
Coupons
| Submit by | Date | Coupon Code | Discount | Emitted/Used | Status |
| --- | --- | --- | --- | --- | --- |
| - | 7/10/2019 | PROJFBFREE_040719 | 100% OFF | | expired |
| - | 8/12/2019 | PROJFB_120819 | 100% OFF | | expired |
| Lee Jia Cheng | 2/6/2020 | 060220_FREE | 100% OFF | | expired |
| Angelcrc Seven | 3/16/2020 | 120320_BEST | 95% OFF | | expired |
| - | 5/22/2020 | 210520_BEST | 95% OFF | | expired |
| - | 7/29/2020 | 280720_FREE | 100% OFF | 40000/6477 | expired |
| Lee Jia Cheng | 9/3/2020 | 020920_BEST | 92% OFF | | expired |
| - | 10/18/2021 | 181021_FREE | 100% OFF | 40000/5715 | expired |
| - | 12/16/2021 | 161221_FREE | 100% OFF | 1000/434 | expired |
| Angelcrc Seven | 2/14/2022 | 140222_FREE | 100% OFF | 1000/989 | expired |
| Angelcrc Seven | 4/21/2022 | 210422_FREE | 100% OFF | 1000/932 | expired |
| - | 6/27/2022 | 270622_FREE | 100% OFF | 1000/519 | expired |
10/20/2015
course created date
7/10/2019
course indexed date