Agile Crash Course for Beginners
Everything you need to know about Agile Software Development
Project Management
category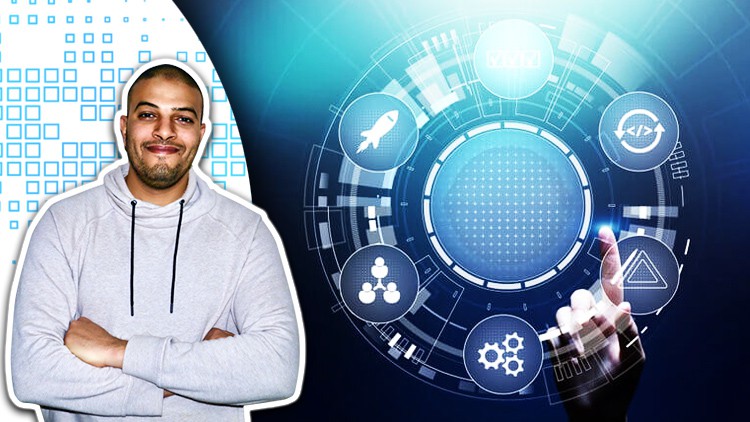 What you will learn
Agile Values
Agile Principles
Scrum
Kanban
Agile Roles
Jira
User Story creation
Planning Poker
Retrospective meeting
Daily Stand-up meeting
Burn-down Chart
Description
In this course, we will learn everything about Agile methodologies, we will learn about agile values & principles, then talk about agile roles like scrum master & product owner, then we will talk about the most famous methodologies like Scrum, Kanban, and Extreme programming. Also, we will talk about agile ceremonies like Daily Stand-up meeting, retrospective meeting, and Sprint review. We will learn about writing user stories & acceptance criteria. We will talk about planning for Agile projects using planning poker activity. This course will prepare you to understand everything about Agile whether you are a software developer, product owner, scrum master, software tester, or product manager.
The four values of the Agile Manifesto
Individuals and interactions over processes and tools.

Working software over comprehensive documentation.

Customer collaboration over contract negotiation.

Responding to change over following a plan.
The following 12 Principles are based on the Agile Manifesto.

1-Our highest priority is to satisfy the customer through early and continuous delivery of valuable software.
2-Welcome changing requirements, even late in development. Agile processes harness change for the customer's competitive advantage.
3-Deliver working software frequently, from a couple of weeks to a couple of months, with a preference to the shorter timescale.
4-Business people and developers must work together daily throughout the project.
5-Build projects around motivated individuals. Give them the environment and support they need, and trust them to get the job done.
6-The most efficient and effective method of conveying information to and within a development team is face-to-face conversation.
7-Working software is the primary measure of progress.
8-Agile processes promote sustainable development. The sponsors, developers, and users should be able to maintain a constant pace indefinitely.
9-Continuous attention to technical excellence and good design enhances agility.
10-Simplicity–the art of maximizing the amount of work not done–is essential.
11-The best architectures, requirements, and designs emerge from self-organizing teams.
12-At regular intervals, the team reflects on how to become more effective, then tunes and adjusts its behavior accordingly.
Content
Agile Values & Principles
Agile 4 Values
Agile 12 Principles
Agile Values & Principles
Agile Requirements
What is a User Story?
Creating an Agile Project using Jira
Creating User Stories using Jira
Scrum - what is it, and how it works?
Scrum Definition & Practices
Scrum Roles
Finishing the Sprint
Scrum Quiz
Measuring progress through Reports & Retrospectives
Burn-down Chart
Velocity Chart
Retrospective Meeting
Reviews
The course was very easy to understand and flowed very well. Also easy to take a lot of notes that you can refer to later, if needed.
Great course. I am an intermediate developer but still found this course very useful. It helped me understand why we do certain things the way we do.
This is a great course for getting a first impression about what is Agile methodology. Tarek is such a great teacher.
HI the last two years all we know about corvid that means we seat and seat not to do however i find out myself i am interesting with IT and about software then looking for online course to try. If i like it or not i like it your introdaction so far, also i am understating Microsoft editing and google sheets and editing also i am very good understanding English and well communicating writing finally i very interesting about IT and i want to be as cyber security.
I'm expecting quite a detailed discussion on the example, but at least a recorded hands-on demonstration using the tools used in the Agile Software Development were present. This is a good course and an informative one for those that wants to have a grasp of what an Agile method is all about.
That's one of the most super courses I had ever took. Thanks for such valuable information and teaching techniques.
I'm having great time with the course as a lot of concepts have been well explained by the tutor.... Looking forward learning more from him
Abdulrahman
February 26, 2022
كووورس راائع وطريقه البشمهندس طارق ف انه يبسط ويوصل المعلوومه اكثر من راائع حقيقي حضرتك من الشخصيات اللي الواحد اتعلم منها كتييير ف المجاال وربنا يكرمك ويرزقك الخير دايما
This course was extremely helpful It is incredibly simple, fast-paced and provided a lot of useful informationand moreover the instructor is professional.
Very good course getting me the most important conceptes of agile Really , Thank you eng tarek, you put me on my way Waiting for my coming steps with your vedios
it was a useful course and i learn manythings about agile methodologies and the difference between scrum and kanban and i learn about tools like jira and trello
Tarek Roshdy didn't waste any time (lean approach :) ) . He was also clear and ensured the lecture were broadcasted in a logical manner to keep my attention focused. I was looking for a course that would explain Agile, Scrum, Kanban and so on. I believe this is just a start if I want to further expand my knowledge as a manager. Thanks again!
The explanation was clear and simple, makes sure that it is well understood by the audience. Also the course added some practical knowledge about the interview questions and it was very helpful for me.
It was an excellent course as an entrance for beginning learning the basics of Agile course and the instructor has a simple way for conveying each lesson.
I had to appear for an interview and had to understand the theory on Agile methodologies. This course provided appropriate content for my interview
Coupons
| Submit by | Date | Coupon Code | Discount | Emitted/Used | Status |
| --- | --- | --- | --- | --- | --- |
| - | 2/18/2021 | FIRSTSTUDENT | 100% OFF | 40000/1188 | expired |
| - | 2/19/2021 | 9321D1BAE15C0A7EFA2E | 100% OFF | 40000/1691 | expired |
| - | 3/1/2021 | NEZAMFRIENDS032021 | 100% OFF | 40000/3189 | expired |
| - | 4/8/2021 | EBEB2EA5A9AB701EC75D | 100% OFF | 40000/2606 | expired |
| - | 5/13/2021 | EIDFETR7234 | 100% OFF | 40000/118 | expired |
| - | 5/31/2021 | AGILEMAY2021HELLO | 100% OFF | 40000/1490 | expired |
| - | 7/5/2021 | 7085A7A89717655AA581 | 100% OFF | 40000/1558 | expired |
| - | 12/25/2021 | F02F72B34E3EBD135660 | 100% OFF | 1000/926 | expired |
| - | 2/19/2022 | 7964913136E304072B9A | 100% OFF | 1000/838 | expired |
| - | 6/23/2022 | E6C1836DE3F87A563F24 | 100% OFF | 1000/986 | expired |
2/11/2021
course created date
2/18/2021
course indexed date