Advanced Videography: Make Your Videos Look Better
Learn Creative Ways to Improve the Way Your Videos Look: Better Cinematography, Videography, Video Production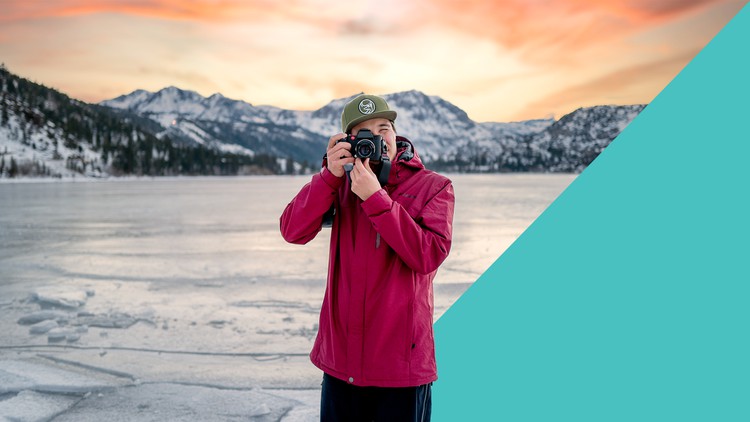 What you will learn
Make your videos better with more creative & professional cinematography / video shooting
Shot composition: learn how to pick and choose your shot composition depending on the scene you're filming
Slow motion & Frames per Second (fps): learn how, when and why you would capture slow motion video
Lens Selection & Focal Length: Learn how different focal lengths change the look of your shot
Adding Movement: Learn how to add movement to improve your cinematography
Aerial Footage: Learn when, why and how to use drones in your video projects
Gimbals: Learn how to use stabilization tools like a gimbal to add steady movement to your videos
Timelapses & Hyperlapses: Learn how to capture both timelapses and hyperlapses
Video Portraits: Learn how to get great shots of people that tell their story
Product Videography: Learn how to get great video shots of a product
Interview Lighting: Learn how to properly set up lighting for an interview subject
Natural vs. Artificial Lighting: Learn how to use both natural & lighting kits to better light your videos
A-roll & B-roll: Learn how to capture both A-roll & B-roll to tell your video's stories
Panning vs. Tracking Shots: Learn how to capture motion with two different types of shots
Vlog Cinematography: Learn how to better capture your own vlogs
Description
Do you ever watch a video and wish your videos looked better?
Perhaps it's a YouTuber you follow, a documentary you saw on Netflix, or a narrative film you saw in theaters... you can capture shots that look just like the professionals.
This Advanced Videography Course tackles getting the right shot. We focus on how to improve the videos you capture: going from mediocre shots to professional & creative ones.
By the end of this class, you'll be inspired and know the exact steps to improving your next video.
Get Instant Access to:
Hours of easy-to-watch video tutorials

15+ ideas for improving your shots

Downloadable guide to improve your videography

Printable Storyboard Template

Premium support if you ever get stuck

Lifetime access to course updates
What is this course?
This course is meant to take your video productions to the next level. What does that mean? This means making your videos look more like the films & videos you watch online, on tv, or in theaters and dream of making.
Follow us as we create three video projects: a corporate documentary video, a commercial promotional video, and a cinematic travel vlog. Within each project, we walk through the entire process of:
Planning our project

Brainstorming & storyboarding our shots

Capturing our shots

Improving our shots
You'll see how we get good standard shots, but then take them to the next level with more advanced & creative shots.
What video production concepts will you learn?
Shot composition: learn how to pick and choose your shot composition depending on the scene you're filming

Slow motion & Frames per Second (fps): learn how, when and why you would capture slow motion video

Lens Selection & Focal Length: Learn how different focal lengths change the look of your shot

Adding Movement: Learn how to add movement to improve your cinematography

Aerial Footage: Learn when, why and how to use drones in your video projects

Gimbals: Learn how to use stabilization tools like a gimbal to add steady movement to your videos

Timelapses & Hyperlapses: Learn how to capture both timelapses and hyperlapses

Video Portraits: Learn how to get great shots of people that tell their story

Product Videography: Learn how to get great video shots of a product

Interview Lighting: Learn how to properly set up lighting for an interview subject

Natural vs. Artificial Lighting: Learn how to use both natural & lighting kits to better light your videos

A-roll & B-roll: Learn how to capture both A-roll & B-roll to tell your video's stories

Panning vs. Tracking Shots: Learn how to capture motion with two different types of shots

Vlog Cinematography: Learn how to better capture your own vlogs
Who should enroll in this course now?
You should take this course if you know how to use your camera to capture video; you know the basics of video settings; you already have experience making your own videos. But, you're wanting to take your videography to the next level.
You may wonder what it takes to get the shots you see on TV. Or perhaps you have just run out of ideas for how to capture an upcoming project.
This course is for anyone who wants to make their videos look more professional & eye-catching.
Who teaches this course?
This is a Video School course, co-taught by video creators Phil Ebiner, William Carnahan and Sam Shimizu-Jones. Together, they have over 30 years of professional experiences making videos that have appeared on all screens - from viral YouTube videos to films shown on a movie theater near you.
This is a great follow-up course to our Video Production Bootcamp, an introductory course to making your own videos. If you are brand new to video creation, we recommend starting with that course.
Enroll now to improve your videos today!
We can't wait to see you in class, and to help you feel more confident making videos.
Cheers,
Phil + Will + Sam
Content
Welcome to Advanced Videography
Welcome to Our Advanced Videography Course
Improve Your Videos with These 15+ Tips
Video Project 1: Commercial Video
Commercial Video Project Overview & Plan of Action
Storyboard Template - Printable Download
How Location Scouting Can Improve Your Videos
How Adding Motion & Shooting at Multiple Angles Improve Your Video
Capturing Motion with Panning & Tracking Shots
How Changing Your Background & Focal Length (Lens) Can Improve Your Video
Add Aerial / Drone Video to Improve Your Videography
Changing Your Lighting to Improve Product ' Beauty' Shots
Watch the Project Video: Commercial Video Recap
Video Project 2: Cinematic Travel Vlog
Cinematic Travel Vlog Project Overview & Plan of Action
A Complete Vlogging Setup Breakdown & Tips
Capturing Great B-roll Video for Your Vlog
Reviewing My B-Roll Videos
Drone B-roll: Reviewing My Aerial Videos
Building Sequences in Your Video to Tell Better Stories
Action Cameras: Capturing Great Video with GoPros and Similar Action Cameras
Timelapses: How to Shoot a Timelapse for Your Video
Hyperlapses: Adding Motion to Your Timelapse
Watch the Project Video: Cinematic Travel Vlog Recap
Video Project 3: Promotional Documentary Video
Promotional Documentary Video Project Overview & Plan of Action
Tips for Interviewing on Video
2-Camera Interview Setup with Lighting & Audio Tips
Video Portrait: Shooting a Beautiful Shot for Promo & Documentary Projects
Cinematic B-roll: Adding Movement & Focus Pulls to Your Video Shots
Steadicam Video with a Gimbal
Naturally Lit Beauty Shot
Watch the Project Video: Documentary Promotion Video Recap
Deep Dive Video Concepts
What is this section?
Understanding FPS, Frames Per Second in Videography
How Shutter Speed Affects Motion in Your Videos
Video Lighting for a YouTube / Content Creator
How Focal Lengths & Camera Distance Affect the Shape of Faces
Thank You & What's Next
Thank You
Reviews
Had very little knowledge of videography at the start of this course, probably not enough to even be in this course, but now feel so much more confident in my abilities and in actually knowing what I'm doing. Very well taught. Very well spread out on topics covered. Great class.
I love the examples used. It gives you a better way of understanding the concepts and allows you to preview the target of what is being achieved.
Too much talking without direction. Sloppy delivery. The audience is confused as to whom the presenter is presenting to. Is the presenter presenting to the audience or each other? It seems they are more impressed talking to each other than to tech salient points to the audience.
The concept of commercial video project was discuss prior to the creation thru story board. Great idea!
Great, succinct, easy to work with information that provides the shooter to go out and apply immediately.
Jonathan
December 31, 2022
I'm looking forward to practicing with lighting. The video tutorials showed excellent examples of how lights work, where to position them and when to dim or defuse or both!
So far I feel like it's more of a beginner course, than intermediate. Still, I like your energy and the way you explain things :)
Really nice course, with a good mix of different content and concepts that can be applied to improve the results from videography.
This course is extremely amazing. Half-way through the course in 1 day while taking great notes and understanding what they're teaching. I'm pumped to kick off my 1st video after this course.
I am happy that I come across this course, I hopefully I will love to do the advances editing course as well. I notice some picture I took today of a friend, it looks much better and I feel good about it.
Very precise and clear explanations to this subject. Good examples help me understand what I can experiment next time when I go out to shoot.
Yes. It was a good match. For me the most important part was seeing the actual filming of the various projects and a final result using the footage. Explanations of various concepts were very good and well illustrated. The thing that is missing for me, is the inclusion of smart phone examples. There are more constraints here but as a practical matter a smart phone is very portable and a lower-cost option.
I have taken quite a few Phil, Will, Sam courses over the past three years and three cameras. On the strength of their excellent teaching, I created a documentary short that has already won a Best Documentary Short in a film festival. Not resting on my laurels though (see what I did there?) I already knew there were at least 10 things I wanted to fix on my next project, so when this course became available I knew it would help. I have probably learned more from this one than any because now we're fine-tuning. Really awesome course. The hints that seem small are actually huge. If you're new, this course is going to be a little high-level. But if you've been taking them and are looking to take your video production to the next level, then you're ready to hear what these three are saying. Also, I've said it before. You can really tell these guys work together, and there's something extra special about having them, as a team, to share their knowledge. After all, most productions are a team, so they are leading by example in the team department. Thank you three so much! I can't wait for the editing course that happens next!
Very likable, professional guys with sessions bursting with seriously, helpful information to help me start my YouTube channel.
I am a photographer with a plan to add video to my experience. Based on its description, this course seems to fit my need and is offered at a reasonable price allowing me to get started. Looking forward to completing the included Video Projects.
Charts
Price
Rating
Enrollment distribution
2/21/2022
course created date
3/26/2022
course indexed date