The Complete Public Speaking Course: Become a Great Speaker
You can quickly go from a competent speaker to a fantastic, memorable speaker who communicates effectively in any forum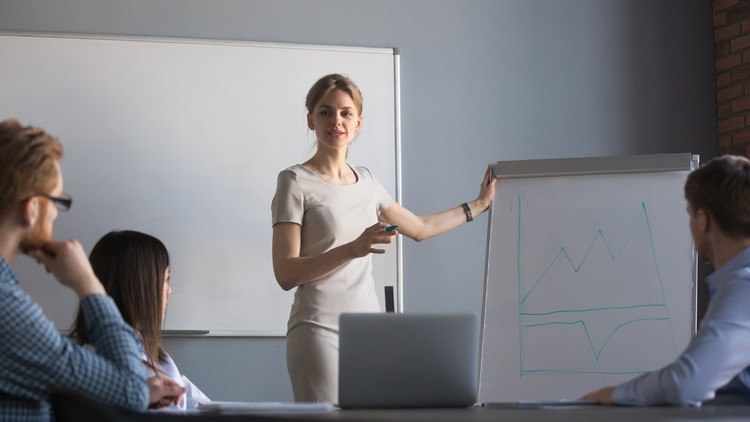 What you will learn
Create a great speech
Learn how to practice on video
Avoid data dumping and other common blunders
How to tell stories
Be memorable
Description
Public Speaking. Imagine having the confidence of knowing that you are going to deliver a fantastic speech, every time you have to stand up and present. Your confidence will come from something real: you will have highly specific skills and habits that will enable you to look confident and poised in every presentation. You will be understood. Your audience members will remember your key points. And that will enable your audience to take the actions you want. After taking this course, your biggest fear in life will be going a day without giving a presentation or speech.
Why waste one more day giving average presentations when you could be delivering outstanding talks and speeches? You will become excellent at Public Speaking.
What will students achieve or be able to do after taking this Public Speaking course?
Create a great speech

Learn how to practice on video

Avoid data dumping and other common Public Speaking blunders

How to tell stories

Be memorable
What do Udemy students say about this Public Speaking course?
"5 Stars! So much great content! TJ surely knows his potatoes and he will save many people's lives who would have been bored to death by terrible speakers without his input." Felix Dexel
*****
"5 Stars!... This is a very complete course. One big warning, as any other course is only useful, if you practice. The most complete course on Public Speaking you can find around. Amazing, Thank you TJ." Joel
*****
"5 Stars! Quality speaks louder than words, and the very first thing that comes to my mind when I am watching all the videos is that TJ Walker really put his effort & go the extra mile to design this wonderful course for anyone who is looking for a good public speaking course. He doesn't waste your time but instead, points directly to the most important thing to do in order to be a good & effective presenter. If there were more stars, I would rate it to the max!" Vincent AKF
*****
"5 Stars! He's a total professional!" Stephen DeMeulenaere
*****
"5 Stars! Thank you for this great course. I really liked the presentation and got many valuable tips. An extra thank you for the additional books that are added to the course." Diana
*****
"5 Stars! This is a very well constructed training with patience and understanding for learning the audience. I would highly recommend this to anyone desiring training for public speaking." Brian Smith
*****
"5 Stars! I learned all possible points for an effective presentation and the speaker. The do's and Don'ts. The verify important one, TJ reinforcing every time that one should rehearse their speech in front of camera and record, playback, self evaluates and improves upon etc. Finally, ask for feedback from friends. I am not at all bored in listening to the course. One of my expectations is If I get downloadable notes like a bullet point on each specific topic. That will help the new people learning the Public Speaking or presenting skills." Palani Paramasivan
There is a 100% Money-Back Guarantee for this Public Speaking course. And the instructor also provides an enhanced guarantee.

This Public Speaking course is ideal for anyone searching for more info on the following: public speaking - presentation - speaking - public speaking for beginners - kids - first steps into public speaking - debate - first step into public speaking - speech. Plus, this course will be a great addition to anyone trying to build out their knowledge in the following areas: presentation skills - communication skills - storytelling.
Content
Before We Start, Here is How to Get the Most Out of This Course
Before We Start, Here is the #1 Tip to Improving Your Communication Skills
Your Questions Will Be Answered Here, In Video
The Time Effective Way to Start Preparing Your Presentation
Creating a Public Speaking Process That Works for you, Everytime
Please Introduce Yourself
How You Can Get the Audience to Do Exactly What You Want - Public Speaking
Creating Your Presentation
Brainstorm Every Topic and Message for Your Speech
What is Your Water Cooler Message? - Public Speaking
7 Steps For Getting the Most Out of this Course
Assignment: Testing Your Communication To Make Sure It Works.
Exciting New Update to this Course
You Must Communicate with the Head and the Heart
Spell Out Benefits for Your Audience
Don't Make Your Speech a Data Dump
Writing a Speech
How Many Points Should Your Presentation Cover?
Magical Phrase for Every Speech - Public Speaking
Time to Rehearse Your Presentation on Video
Get People to Do What You Want by Asking the Right Way
Your Questions Can Be Answered Right Now
PowerPoint Presentations
There is No Such Thing as a PowerPoint Presentation
PowerPoint Essentials in Less than One Minute
Should I use PowerPoint Slides in my Presentation?
PowerPoint Presentations, Prepare for Disasters
PowerPoint Presenters Must Focus on Audience, Not Slides
PowerPoint Presentations Require 2 Separate PowerPoints
PowerPoint Slides, One idea Per Slide
Don't Use Your PowerPoint Slides to Put People to Sleep
How Many Bullet Points Should Be on a PowerPoint Slide?
Animation, Video and Special Affects in PowerPoint Presentations
How to Black Out Your Screen During a PowerPoint Presentation
PowerPoint Presentation Tip, Don't Use Builds
How Many Slides to Put in a PowerPoint Presentation
How to Test Your PowerPoint Slides for Effectiveness
Time to Rehearse Your PowerPoint on Video
You Must Ask for Criticism to Improve Your Communication Skills
Public Speaking Mechanics
Halfway Through, Are There any Questions?
How to Prepare a Speech
How to Start a Speech with an Icebreaker
What to Do if You Don't Like Your Voice
How to Speak with Confidence
How to Give a Formal Speech
How to Put Your Audience at Ease
How to Close a Speech
How to Pace a Speech
How do I know what messages and topics will be?
Tell 'em what I'm gonna tell 'em, tell 'em
How Long Should My Speech Be?
Public Speaking Rules You Should Never Break
How to Make Your Presentation Memorable
How to Manage Time When Giving a Presentation
How to start a speech
How can I find out whether my presentation worked?
How to Make a Speech in a Business Setting
How to Use Humor in a Speech
Should I Rehearse My Speech and for how long?
How to Eliminate Nervousness for public speaking
How to Recover from a Memory Lapse during a Speech
How to Keep Your Speech from Being Boring
What to Do if You're Losing Your Audience
How to Handle Questions from the Audience
How do I remember what to say in a presentation?
Should I read my speech so that I don't make any mistakes?
How Should You Ask to Be Introduced?
How to Avoid Making a Bad Impression during Presentations
How to Use use whiteboards, flip charts, in presentations
Use This Form Below to Critique a Video of Your Own Presentation
Become a Better Communicator by Critiquing Others
How to Tell Stories
Stories Are the Most Important Part of Great Speeches
Message Drives Stories
What is the setting for Your Story?
Share Your Emotions When telling Your Stories
Your Speaking Stories Must Contain Dialogue
What Characters and Conflicts are in Your Story?
Your Story Must have a Resolution
Don't Tell Stories, Instead Re-Live Stories
Time to Rehearse Your Story on Video
Conclusion
To Pass the Course, You Must Do This
Time to Deliver Your Final Presentation on Video
Bonus. More Advanced Techniques
Ouch! Somebody Criticizes Your PresentationSpeech – How to Make the Best of It
How to Prepare and Use Notes in a Speech
Why You Should Never Memorize a Speech
How to Keep Your Audience's Attention
How to Speak in Front of a Big Crowd
How to Handle a Heckler
How to Deliver a Eulogy
How to Make an Acceptance Speech
How to Introduce Another Speaker
How to Make a Speech Powerful and Persuasive
How to Make Prepared Remarks as Good as Your Q and A
Can Public Speaking be learned or is it natural born?
A Positive Attitude for Public Speaking
What if You are asked a question You Can't Answer?
Should I warn my audience I will be boring?
If my allotted speaking time is cut, what should I eliminate?
How to Move around while Making a Speech
How to Deal with People Texting during Your Speech
Taking Beta Blockers to Calm Your Nerves
Using Alcohol to Calm Your Nerves before a Speech
How to Make a Toast
How to Use Body Language during a Speech
How to Use a Lectern or Podium When Giving a Speech
What to Do with Your Hands when Making a Speech Public Speaking
How to Sound Conversational in a Speech
How to Give a Motivational Speech
How to Give a Sales Presentation
How to Dress for a Speech
How to to Use a Teleprompter
How to Recover from Making a Mistake in a Speech
How to Give a Technical Speech
How to Make a Presentation in High School or College
How to Stop Saying Um and Ah when You Speak
How Women Should Alter their Voice during a Speech?
How to Make Eye Contact with Your Audience
Should You Wear Glasses during a Speech
How to Deal with Malfunctions during a Speech
How to Smile during a Speech
Have a Public Speaking Improvement Plan
Conclusion
Time to Give TJ a Piece of Your Mind
Housekeeping Matters
Who is TJ Walker?
$10,000 Guarantee This Course Will Make You a Better Communicator
If You Like to Learn by Reading
Bonus Reading Section
Secret to Foolproof Presentations
Public Speaking Success
1001 Ways to Wow Speaking Audiences
Media Training A to Z
Media Training Success
Bonus Update - You Should Get on the TikTok App Now
Questions from Students Answered by TJ in Video
What is the Best Way to Boost Energy Level?
How to avoid the tentative start?
How to Use Video in Online Public Speaking Training Classes?
What is the Best Video Backdrop to Use for Online Videos?
How Can I pull a Great Speech Out of the Bag?
Public Speaking How to Gain Confidence from Others?
What do you do if rude audience members try to hijack your speech?
What if you forget what to say?
What is best way to reduce stress before speaking?
How to Make Your Presentation More Understandable | Public Speaking Training
Improve the Flow of Your Presentations | Public Speaking Training
How Many Points to Cover in a 2 Minute Presentation? | Public Speaking Training
What comes first, the message point or the story?
Do You Need to Struggle With Public Speaking for Years?
What Happens if I get stuck When Speaking? Public Speaking Training
Here Is How You Can Get your Certificate of Completion for this Course
Final Bonus Lecture: Huge Discounts on Other TJ Communications Courses
Reviews
I'm new to professional speaking and everything I heard Mamés sense. I am happy I'm listening and learning before ever speaking!
It's helping me with 1% improvement everyday to become a better man who understands his audiences at intellectual and heart level and provides what they actually need.
TJ Walker shift the paradigm of public speaking from a mountain to a mole hill. With 140 examples of how to it using the simplest methods.
Great time I had. It was so leveraging. Thanks for the exposure to what it takes to be a good public speaker!!!
Every communicator should take this course no matter the area of specialization. Tj teaches so well such that you could even become not just an excellent presenter but a good writer later on. I however kept looking for the discussion section. It would be better if there's a room or group or community for those taking the course where ideas could be shared and questions could be asked and answered instantly before the next session. Frankly speaking, I have enjoyed every bit of this course.
This course superb. I enjoyed every bit of it. The interesting part is the regular updating of the course and student learning initiative. I will recommend to anyone who wants to learn public speaking at any level. Thank you
Right to the point about most of the issues that I might have regarding public speaking and presentation. Thank you
actullay this is first time experiance but yeah it's sound good i always want to talk to people and intract i find this coures till it is good i really enjoy
this course about public speaking is good and I want like you good speaker sir, I hope this course can giving me a good benefit and I can become a good or perfect speaker.
The course is very easy to learn and the connection with Tj is beautiful, I feel he's directly in front of me
Every piece so far has been very clear and made a lot of sense. The instruction to video yourself has been very enlightening for me, since I tend to never do that.
So far it feels right on the subject. I need to follow the instructions and I think, this will work for me.
This course is quite good. It does not provide any golden solution and rather recall all the basic simple rules one should stick too in order to succeed. It is a true that basic root of failure is not lack of skills. It is aversion to practicing until you are done.
Katarzyna
September 28, 2021
its a very good course. I love the structure, that it is split into small presentations so it is easy to keep being focused. Also the key points are repeated a lot of times so it is really memorable. It's easy to believe that your advice work because you show your key points while presenting. really great course. thank you.
Thiagarajan
September 20, 2021
The course is really nice. Covers all major things. One learning is Speak, record and review and practice every day. Thats a good message from the author.
Coupons
| Submit by | Date | Coupon Code | Discount | Emitted/Used | Status |
| --- | --- | --- | --- | --- | --- |
| Lee Jia Cheng | 9/3/2020 | 51867EF38E14AEEFDE5E | 100% OFF | 40000/9659 | expired |
| SADBOY | 1/28/2021 | 6D518E648600F85A2B2D | 100% OFF | 40000/2771 | expired |
| - | 5/25/2021 | 1559A7F189153FA44002 | 100% OFF | 40000/9621 | expired |
| - | 10/23/2021 | F5B6926312572FC3B123 | 100% OFF | 40000/3167 | expired |
| - | 7/25/2022 | 5EDEA4ABDF7F252DC96F | 100% OFF | 1000/999 | expired |
| - | 8/16/2022 | 604973D4414D6F12E025 | 100% OFF | 1000/782 | expired |
| - | 9/14/2022 | 0DEFE8DAEDF92D5DA08A | 100% OFF | 1000/996 | expired |
| - | 10/23/2022 | FC733ABB1F44DA3FE75D | 100% OFF | 1000/906 | expired |
| - | 11/1/2022 | 15B75EC4F3E945BB0D84 | 100% OFF | 1000/870 | expired |
| - | 11/9/2022 | C12C34757511A89A407B | 100% OFF | 1000/735 | expired |
| - | 11/15/2022 | 28588D99A10152931AFF | 100% OFF | 1000/760 | expired |
| - | 11/28/2022 | 678E3B604F8CB610F5FC | 100% OFF | 1000/936 | expired |
| - | 12/6/2022 | D64201AD4D21C3C1BB99 | 100% OFF | 1000/997 | expired |
| - | 12/15/2022 | 471723691A5EA6BE4861 | 100% OFF | 1000/623 | expired |
| - | 5/12/2023 | B8B23BCB1C3EEE4A5948 | 100% OFF | 1000/570 | expired |
| - | 5/19/2023 | C994E31A11E1EFC001FD | 100% OFF | 1000/673 | expired |
| - | 5/27/2023 | THANKS005 | 100% OFF | 1000/772 | expired |
| - | 6/16/2023 | THANKS014 | 100% OFF | 1000/994 | expired |
| - | 6/27/2023 | 3A12105A00B61B4EBF3B | 100% OFF | 1000/439 | expired |
| - | 7/16/2023 | CF56E184A8EF15BB8814 | 100% OFF | 1000/984 | expired |
| - | 7/26/2023 | 5BCD49E1380199C4473B | 100% OFF | 1000/708 | expired |
| - | 8/10/2023 | 403A374B3A1A4341DEC0 | 100% OFF | 1000/405 | expired |
| - | 9/14/2023 | C8038C4334C63AC6B2E4 | 100% OFF | 1000/263 | expired |
| - | 9/23/2023 | 7C2DAE759A4A4F322317 | 100% OFF | 1000/566 | expired |
| - | 10/22/2023 | 1D35694B6BBC60013D73 | 100% OFF | 1000/980 | expired |
Charts
Price
Rating
Enrollment distribution
9/8/2014
course created date
5/22/2020
course indexed date