Adobe Animate | Ultimate Guide
Ultimate A-Z Guide for Adobe Animate 2022 Go From Basic to Advanced From Scratch.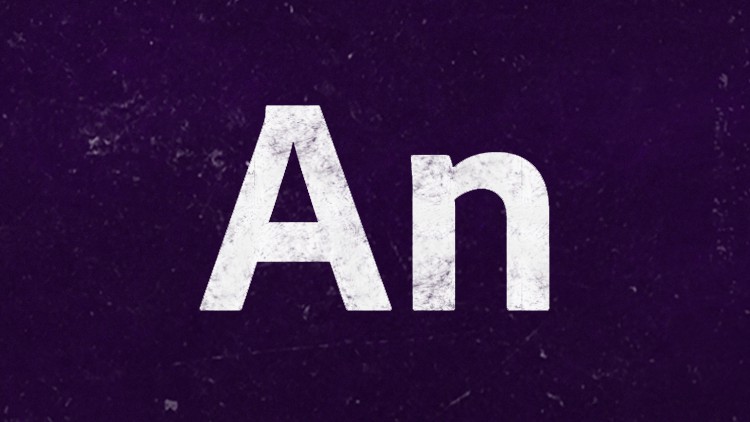 What you will learn
Adobe Creative Cloud Plans
Setup Adobe Creative Cloud Account
Install Adobe Animate 2022
Welcome Page
Build a Project While Learning the Interface
Main Menu
Workspaces
Panels
Preferences
Tools
Description
Have you always wanted to learn how to Animate Video but don't know where to start?
Would you like to make amazing Videos and bring your ideas to life?
Then Adobe Animate 2022 Ultimate Course is for you!
Hi, I'm your instructor Josh Werner and I'll be leading you through this course.
Animation is an in-demand skill in 2022.
The course begins with the basics.
I'll take you through everything you need to know to start Animating Videos like an expert.
You'll learn all the fundamentals of Adobe Animate 2022.
This is great for students starting or for Animators that need a refresher course on Adobe Animate 2022.
There are no requirements necessary to enroll I only ask that you come open minded and ready to learn
Feel Free to look through the course description and checkout some of my preview videos
The course is packed with over 3 hours of hands-on tutorials
Here's What You'll Learn:
01. Introduction
01. Welcome
02. Adobe Creative Cloud 2022 - Plans
02. Overview
03. Individuals
04. Business
05. Students & Teachers
06. Schools & Universities
07. Summary
03. Adobe Creative Cloud 2022 - Account Setup
08. Overview
09. Setup Account
10. Creative Cloud Web
11. Summary
04. Adobe Animate 2022 Setup
12. Overview
13. Install Adobe Animate 2022
14. Summary
05. Welcome Page
15. Overview
16. Home
17. Learn
18. Create New
19. Open
20. What's New
21. Summary
06. Main Menu
22. Overview
23. File
24. Edit
25. View
26. Insert
27. Modify
28. Text
29. Commands
30. Control
31. Debug
32. Window
33. Help
34. Summary
07. Workspaces
35. Overview
36. Small Screen
37. Essentials
38. Developer
39. Designer
40. Debug
41. Classic
42. Basic
43. Animator
44. Reset Workspace
45. Summary
08. Panels
46. Overview
47. Assets
48. Rig Mapping
49. CC Libraries
50. Library
51. Brush Library
52. Motion Presets
53. VR View
54. Frame Picker
55. Layer Depth
56. Actions
57. Code Snippets
58. Compiler Errors
59. Debug Panels
60. Output
61. Align
62. Color
63. Info
64. Swatches
65. Transform
66. Components
67. Component Parameters
68. History
69. Scene
70. Summary
09. Preferences
71. Overview
72. General
73. Code Editor
74. Script Files
75. Compiler
76. Text
77. Drawing
78. Summary
10. Conclusion
79. Thank You
Feel Free to look through the course description and checkout some of my preview videos
Content
Creative Cloud
Overview
Individuals
Business
Students & Teachers
Schools & Universities
Setup Account
Download Creative Cloud App
Install Creative Cloud App
Install Adobe Animate
Welcome Page
Overview
Home
Learn
Create New
Open
What's New
Reviews
This is not an ultimate adobe animate course. The title is misleading and he is just introducing about the simple tools and menus in this course. Waste of time and money.
Very little content. This course does not dive into how to really use the program. Most of the content is the reading aloud of the tools and menu drop downs.
If I wanted to read through the application menus, I could do that. I felt like that was all this tutorial really was. One or two decent notes, but I would have learned more by looking up specific functionality on youtube.
It is far from an "Ultimate" course. Much of the lectures are simply reading over the items in each of the menus. In several instances the instructor refers to getting back to a section like Control and Debug but I have not seen anything related to it. I'm even going through the portion made for Animate CC 2020 in case things went into more depth, but it is really the same thing. Is this only a part of the "Ultimate" course? Is the meat and project(s) somewhere else?
didnt really teach me anything.just read all the menus. i did that already. wanted a class to teach me to use the program. not a walk through
I like that he explains ever single detail. I am a teacher and I have to teach this subject (no clue) this fall so he is saving my life.
Most certainly wouldn't consider this to be an "Ultimate course". Just describing each menu item is hardly what I would consider educational. No user guide or how to tutorial to help you learn.
If you just heard that there exists a word called adobe animate , then this tutorial will help you. If you you anything, even if you had spend 2 days with adobe animate yourself, this won't help.
Totally bad instructor. He teaches us normal things. Any person knows this basic things. A learner came here to learn something new not this kind of rubbish things. He is unnecessarily call up the name list of each tab. And it is totally a waste. He might better teach those animation factors though some factors that's helps us that how we could use those. he is the most disgusted instructor.
its a good learning experienced, i thought we have a project using all the tools., hehe anyways its ok thank you so much
It was a good experience .But sometimes it is seen as just reading the contents,intead of teaching. Overall Good.
The course is supposed to teach Adobe Animate. It teaches us how to apply where learning Adobe Animate remains
It is very nice and very informative course with a very short videos and direct to the point without waffle! I strongly recommended for everyone who wants to get a good idea and a general overview to learn Adobe Animate CC 2020!!
Coupons
| Submit by | Date | Coupon Code | Discount | Emitted/Used | Status |
| --- | --- | --- | --- | --- | --- |
| Lee Jia Cheng | 8/12/2020 | TRY10FREE92 | 100% OFF | 40000/13034 | expired |
| Lee Jia Cheng | 8/15/2020 | TRY10FREE93 | 100% OFF | 40000/8778 | expired |
| Lee Jia Cheng | 8/19/2020 | TRY10FREE94 | 100% OFF | 40000/4301 | expired |
| Lee Jia Cheng | 9/4/2020 | TRY10FREE201 | 100% OFF | 40000/3633 | expired |
| - | 9/26/2020 | TRY10FREE207 | 100% OFF | 40000/2318 | expired |
| - | 10/4/2020 | TRY10FREE302 | 100% OFF | 40000/2926 | expired |
| Rajen Sikder | 4/20/2021 | TRY10FREE42107 | 100% OFF | 40000/12433 | expired |
| - | 4/24/2021 | TRY10FREE42108 | 100% OFF | 40000/2084 | expired |
| - | 4/27/2021 | TRY10FREE42109 | 100% OFF | 40000/1512 | expired |
| - | 5/7/2021 | TRY10FREE52103 | 100% OFF | 40000/5056 | expired |
| - | 5/16/2021 | TRY10FREE52106 | 100% OFF | 40000/4788 | expired |
| PwrSrg | 5/29/2021 | TRY10FREE52110 | 100% OFF | 40000/5813 | expired |
| M H | 6/8/2021 | TRY10FREE62102 | 100% OFF | 40000/4439 | expired |
| - | 6/16/2021 | TRY10FREE62105 | 100% OFF | 40000/3544 | expired |
| - | 6/25/2021 | TRY10FREE62108 | 100% OFF | 40000/2409 | expired |
| - | 7/4/2021 | TRY10FREE72102 | 100% OFF | 40000/4010 | expired |
| - | 7/17/2021 | TRY10FREE72106 | 100% OFF | 40000/4110 | expired |
| - | 7/26/2021 | TRY10FREE72109 | 100% OFF | 40000/2970 | expired |
| - | 8/8/2021 | TRY10FREE82103 | 100% OFF | 40000/2413 | expired |
| - | 8/23/2021 | TRY10FREE82108 | 100% OFF | 40000/1356 | expired |
| - | 9/5/2021 | TRY10FREE92102 | 100% OFF | 40000/1661 | expired |
| - | 9/20/2021 | TRY10FREE92106 | 100% OFF | 40000/1383 | expired |
| - | 10/4/2021 | TRY10FREE102102 | 100% OFF | 40000/1986 | expired |
| - | 11/13/2021 | TRY100FREE112101 | 100% OFF | 100/25 | expired |
| - | 11/22/2021 | TRY10FREE112103 | 100% OFF | 1000/745 | expired |
| - | 12/7/2021 | TRY100FREE122101 | 100% OFF | 100/14 | expired |
| - | 12/31/2021 | TRY100FREE122106 | 100% OFF | 100/37 | expired |
| - | 1/26/2022 | TRY1000FREE12203 | 100% OFF | 1000/754 | expired |
| - | 1/30/2022 | TRY1000FREE12204 | 100% OFF | 1000/994 | expired |
| - | 2/11/2022 | TRY100FREE22101 | 100% OFF | 100/95 | expired |
| - | 2/23/2022 | TRY1000FREE22203 | 100% OFF | 1000/971 | expired |
| - | 3/1/2022 | TRY1000FREE32201 | 100% OFF | 1000/972 | expired |
| - | 4/1/2022 | TRY100FREE3312201 | 100% OFF | 100/86 | expired |
| - | 4/1/2022 | TRY1000FREE3312201 | 100% OFF | 1000/933 | expired |
| - | 4/15/2022 | TRY1000FREE42203 | 100% OFF | 1000/878 | expired |
| - | 4/21/2022 | TRY1000FREE42205 | 100% OFF | 1000/986 | expired |
| - | 4/23/2022 | TRY1000FREE42204 | 100% OFF | 1000/623 | expired |
| - | 5/10/2022 | TRY100052201 | 100% OFF | 1000/993 | expired |
| - | 5/17/2022 | TRY100052202 | 100% OFF | 1000/995 | expired |
| - | 6/2/2022 | TRY100052203 | 100% OFF | 1000/971 | expired |
| Lee Jia Cheng | 6/5/2022 | TRY100062201 | 100% OFF | 1000/980 | expired |
| - | 6/9/2022 | TRY100062202 | 100% OFF | 1000/479 | expired |
| - | 7/1/2022 | TRY100062203 | 100% OFF | 1000/982 | expired |
| - | 7/24/2022 | TRY100072201 | 100% OFF | 1000/597 | expired |
| - | 7/27/2022 | TRY100072202 | 100% OFF | 1000/22 | expired |
| - | 8/1/2022 | TRY100072203 | 100% OFF | 1000/272 | expired |
| - | 8/11/2022 | TRY1000FREE82201 | 100% OFF | 1000/802 | expired |
| - | 8/31/2022 | TRY1000FREE82203 | 100% OFF | 1000/67 | expired |
| - | 8/31/2022 | TRY1000FREE82202 | 100% OFF | 1000/315 | expired |
| - | 11/1/2022 | B6BF82174624C76540E2 | 100% OFF | 1000/622 | expired |
| - | 11/17/2022 | TRYFREE1000112203 | 100% OFF | 1000/543 | expired |
| - | 11/25/2022 | TRYFREE1000112216 | 100% OFF | 1000/389 | expired |
| - | 1/14/2023 | TRY1000FREE012301 | 100% OFF | 1000/829 | expired |
| - | 2/1/2023 | TRYFREE123G1SET2 | 100% OFF | 1000/486 | expired |
| - | 2/10/2023 | FREE223G1S1 | 100% OFF | 1000/409 | expired |
| - | 2/20/2023 | FREE223G1S3 | 100% OFF | 1000/875 | expired |
| - | 3/3/2023 | FREE323G1S1 | 100% OFF | 1000/632 | expired |
Charts
Price
Rating
Enrollment distribution
7/24/2020
course created date
8/3/2020
course indexed date