Acrylic ABSTRACT with a Painting Knife. Part 1
Paint this dynamic Abstract with only 2 Primary Colours and White - pieces of Cotton Rag and a Painting Knife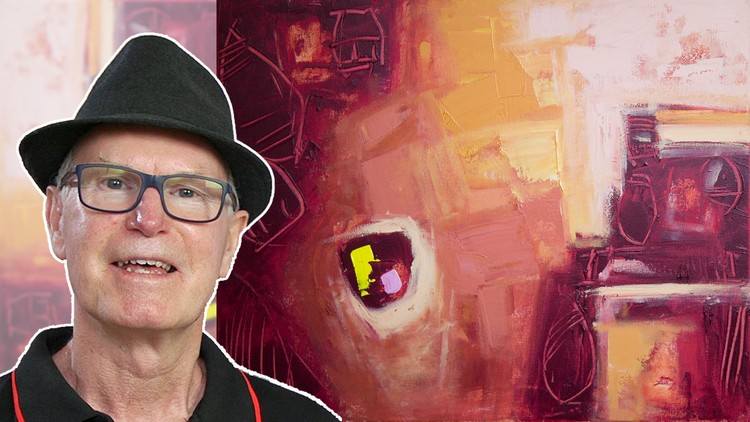 What you will learn
Paint a dynamic Abstract with only 2 Primary Colours and White
Do a Colour Mixing exercise first to prepare you for the featured Abstract
How to layout and organize the Colours on your Palette
Paint with Crimson - Lemon and White and mix Secondary Colours and Tints
Mix clean colours with your Painting Knife
Paint using pieces of Cotton Rag and a Painting Knife blending edges and colours together
Create a Focal Point with contrast so that the eye is drawn to it
Place bright accents on the Focal Point that pop and give the painting a 3D effect
Use the tip of the Painting Knife to scratch marks into the paint to create visual interest and texture
Paint a Mini Abstract at the end as a fun exercise
Description
This Acrylic Abstract Painting course will have you painting this dynamic Abstract right from the start. You will mix clean colours and apply them to your canvas using pieces of Cotton Rag and the Painting Knife. You will start by doing a simple Colour Mixing Exercise using the Painting Knife to mix and apply the colours. The purpose of this is to introduce you to the colours and tints that you will be mixing for the featured Abstract in this course!
The composition for this Abstract is simple and you will learn how to mix colours effectively with just 2 Primary Colours and White. You will also mix a variety of a Secondary Colour and a range of Tints with the addition of White. You will also create a Focal Point with colour accents that pop off the canvas so that the eye is drawn to it.
The colour theme for this Abstract is based on rich dark Crimsons, Burnt Oranges and bright Lemons. Understanding how to create a colour theme and focal point and mix clean colours and tints is vital to the success of any Abstract Painting.
If you have no previous knowledge or experience of painting Abstracts, by following this easy step by step course you will quickly learn the fundamentals of how to mix colours and tints. You will enjoy using your Painting Knife and pieces of Cotton Rag to apply the paint to your canvas and also blend the edges of your colours together.
You will start painting immediately using pieces of Rag to block in the main areas of colour. Applying the paint this way is a fun and enjoyable way to get you started and it will help you to keep a loose approach. You will then use your Painting Knife to develop the Abstract applying thick colours and use the tip of the Knife to scratch marks into the wet paint to create shapes of visual interest and texture!
I will demonstrate each step so that you can watch and paint along with me as you progress through the course. You will see plenty of close ups of colour mixing on the palette and applying the paint to the canvas with rags and knife.
I know that you will really enjoy the freedom of painting using the techniques in this course and at the same time you will gain a good understanding of how to mix colours successfully. Also you'll have a great amount of fun in the process! Here's to your enjoyment! Let's paint Abstract!
Who is the ABSTRACTS in ACRYLICS instructor?
My name is Gerald Ashcroft Artist and Teacher and I have run many Abstract and Landscape workshops over the years.
I have created this course for beginners who want to discover the freedom and fun of Abstract Painting with pieces of Cotton Rag and a Painting Knife. I want to show you just what you can achieve by using a very limited palette of colours to create an Abstract with a Colour Theme that works!
Workshop Testimonials Western Australia:
Prior to joining Gerald's Abstract Workshop I had no experience painting since I left school several decades ago. With great patience, Gerald guided our group through colours, mixing shades & different techniques with painting knife, brush to good old gravity. From being very apprehensive at the beginning, I gained much needed confidence with Gerald's step by step approach.
My opinion of my own ability has grown in a positive way since these workshops & I now look forward to putting brush to canvas on a regular basis.
Liz Perth WA
This is just a note to thank you for your excellent recent workshop.
As usual you displayed a high degree of professionalism and knowledge coupled with a friendly, encouraging manner.
Your classes are always enjoyable and importantly your style of teaching, which is focused and structured, enables real learning to take place. I particularly appreciated your emphasis on tone and the 'blocking in' method you taught and found it to be very helpful.
Thank you and I look forward to the next workshop!
Chris Perth WA
I think what I enjoyed most about my course in Painting Landscapes with Gerald Ashcroft was his gentle way of putting everyone at ease, regardless of our experience or level of skill. Genuinely interested in each student, he encouraged us to explore techniques and research other opportunities to develop our practice.
Jo Perth WA


Content
Getting Started
Welcome to the Course
Painting Materials
Colour Mixing Exercise - MUST DO
Introduction
Palette Layout
Lemon and Crimson Primary Colours
Burnt Orange
Lemon Orange
Crimson Orange
Orange Tint 1
Orange Tint 2
Lemon Orange Tint 1
Lemon Orange Tint 2
Crimson Orange Tint 1
Crimson Orange Tint 2
Lemon Tint 1
Lemon Tint 2
Crimson Tint 1
Crimson Tint 2
Conclusion
Preparation for ABSTRACT 1
Introduction
Divide Up The Canvas
Palette Layout
Tinting The Canvas
Stage 1 - Blocking In the Colours
Line In the Composition
Rag in the Crimson
Rag In Focal Point
Rag in Deep Crimson Orange
Rag in Mid Orange
Rag in Lemon Orange - Top
Rag in Crimson Orange Tint
Stage 2 - Developing with the Painting Knife
Knife in the Crimson - Left
Scratch Marks with the Knife - Left
Knife in Crimson - Right
Blending Edges
Focal Point
Scratch Marks with the Knife - Right
Deep Crimson Orange
Blending Edges
Mid Crimson Orange
Lemon Orange - Top
Lemon Orange Strips
Lemon Center
Stage 3 - Final Stage
Light Crimson Tint - Top
Additional Tint - Top
Lemon Orange - Bottom
Bright Accents
Focal Point Highlight
Highlight Strip - Right
Conclusion
BONUS - Mini ABSTRACT
Introduction & Crimson
Lemon
Burnt Orange
Crimson Orange
Crimson Orange Tint
Lemon Orange
Lemon Orange Tint
Crimson Tint blob
Scratch Marks
Focal Point
Conclusion and next Abstract Course
Reviews
Melanie
September 12, 2020
Great course. Learnt a lot about colour mixing, blending, accent colours & more. The ending made me laugh out loud, glad you left that in. Thanks, will be painting these tomorrow ?????
I'm LOVING this course so far. Have only mixed my colors and divided up the canvas. Gave it an extra coat of gesso as well. Ran out of time to get the painting done but will be coming back to it. I just wanted to get this rating/comment entered because I'm really enjoying how complete and thorough Gerald Ashcroft is in his instruction. One tip for anyone thinking about or starting this course. Mix more paint than you think you need, otherwise you'll be mixing a whole other batch of the color you depleted and sometimes that's not too easy. I learned the hard way. :) I'm really looking forward to completing this abstract and am looking forward to more course by Gerald.
I liked Gerald's style of teaching. It was clear, organized and without drama (a good feature). I learned more about composition, focal points, color mixing and use of a palette knife - more than before taking Gerald's Acrylic Abstract with a Painting Knive, Part 1. I also appreciated that I didn't have to go out and buy a bunch of new supplies.
Excellent class I learned a lot of new techniques that is going to improve my paintings. Thanks and looking forward to the next class.
Being a beginner painter I was please that everything in the course was thoroughly explained, including mixing colours and applying them. It was exciting to use a palette knife and rag and I enjoyed scratching details into the canvas as the course demonstrated. I loved that I can create high impact art with just two colours plus white.
Christine
September 9, 2019
This course which teaches how to paint an abstract is very instructive. First we learn how to mix colours and Gerald's approach brings order to both palette layout and to the actual mixing of colours so that right from the start real learning takes place. During the painting of the abstract we learn some basic tenets of design and balance and, as the painting evolves, confidence grows. At the end of the course I felt ready to be a lot more adventurous with my own paintings. I recommend this course to anyone starting on their painting journey as it will set them on the right path immediately.
Coupons
| Submit by | Date | Coupon Code | Discount | Emitted/Used | Status |
| --- | --- | --- | --- | --- | --- |
| - | 9/1/2019 | ACRYLICABSTRACT1 | 100% OFF | 150/90 | expired |
9/27/2018
course created date
9/1/2019
course indexed date