5-Day Guided Meditation Challenge - Stress & Anxiety Relief
Are you struggling with stress, anxiety and burn out? Join this meditation journey to come back to yourself.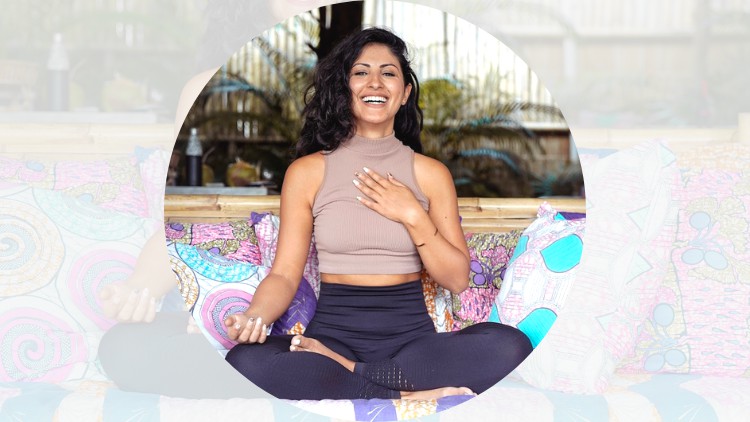 What you will learn
5 Different Meditation Styles
Body-Scan & Relaxation Meditation
Mindfulness & Vipassana Meditation
Loving Kindess (Metta) Meditation
Gratitude Meditation
Self-Awareness Meditation
To Be Kind, Gentle and Compassionate to Yourself
Develop a Relationship to Your Breath
To Connect to your Breath and Relax your body
Description
Hi Friends,
Welcome to your 5-DAY GUIDED MEDITATION CHALLENGE by Kanwal Jehan
When it comes to meditation, consistency is essential. I have this short journey to help you reduce stress, anxiety and burnout, increase your mindfulness and develop a consistent meditation practice. I invite you to take from 10 to 20 minutes each day and dedicate it to your spiritual practice.
THIS MEDITATION COURSE IS 100% PRACTICE!

This is your meditation plan for the next 5 days:
Day 1 - Body Scan & Relaxation Meditation - 20 Min

Day 2 - Vipassana & Mindfulness Meditation - 18 Min

Day 3 - Self-Awareness Meditation - 16 Min

Day 4 - Loving Kindness (Metta) Meditation - 18 Min

Day 5 - Gratitude Meditation - 12 Min



To help you track your progress, I have created a meditation journal that you can print out and check off the days you meditated. Under resources, you will find your meditation journal. Every day before you meditate, I invite you to open up your journal first and then meditate. Have your journal next to you when you are meditating (you can leave the journal as a word doc or print it out or write the prompts in your personal journal). Remain consistent with the journal to develop a meditation + journaling habit.
Happy meditating. Enjoy every moment of your self-discovery and self-exploration experience.
**Student and client wins, testimonials and success stories:**
Kanwal's meditations are powerful and super soothing. I can't believe how calm and relaxing her voice is. It's like everything disappears and healing just starts to happen. I love working with Kanwal. I am doing her second program now "Meditation Mindset" and it's helping me heal old wounds and traumas. I did the "Life Clarity" program first which really gave me clarity in every area of my life. Now, I wanted to do a deep dive to heal my traumas, release old patterns and habits and reprogram my subconscious. I highly recommend working with Kanwal. You will see what a gift it is to realize your purpose and dream. You will also find comfort and joy in being present. -- Callie B., New York
~~~~~~~~~~~~~~~~~~~~~~~~~~~~~~~~~~~~~~~~~
Kanwal is an incredible coach. She's extremely intuitive coach and mentor. I had the pleasure of working with her most of last year and I can honestly say, her teachings have left a huge impact. She combines many modalities in her teachings keeping the learning curious, fun and creative. I highly recommend working with it. It's totally worth it. You see changes immediately! -- Sheila M., New York
~~~~~~~~~~~~~~~~~~~~~~~~~~~~~~~~~~~~~~~~~
Kanwal truly is an incredible and inspiring coach. She brings out the best in you. Every session is insightful, filled with aha moments. I always get some major breakdown in each session and feel like I am making progress. I no longer feel held by my limitations and childhood traumas. The meditation coaching has been insanely powerful. Thanks Kanwal. I can't thank you enough. -- Allen S., Los Angeles
~~~~~~~~~~~~~~~~~~~~~~~~~~~~~~~~~~~~~~~~~
I was going through a spiritual awakening I wasn't aware of when I spoke to Kanwal. She explained to me the phases of the awakening and how most it was normal. She told me to feel into all of it and welcome it. The resistance I felt and the need to control my outcomes and reality was holding me back from surrendering and trusting in the universe. We continue to have our sessions weekly and I learn more about myself and my spiritual awakening. It's such an amazing experience. -- Samantha K., New York
~~~~~~~~~~~~~~~~~~~~~~~~~~~~~~~~~~~~~~~~~
I was skeptical at first because I had never tried coaching like this. After one session with her, I realized how much I was lying to myself and that it was time to be honest with myself. I was letting my fears hold me from achieving my dreams and realizing my purpose. I can't believe I didn't start sooner. I am so so so so grateful to Kanwal for her wisdom, knowledge, love and support. She does this thing about "acknowledging" which makes such a huge difference. I have learned so much, where do I even begin with. :) -- Hailey S., London
Content
Introduction
Introduction
Day 1 - Body Scan & Relaxation Meditation
Day 2 - Vipassana & Mindfulness Meditation
Day 3 - Self-Awareness Meditation
Day 4 - Loving Kindness (Metta) Meditation
Day 5 - Gratitude Meditation
CONGRATS!! I have a GIFT for YOU :)
Reviews
I loved this and I found this exactly when I needed it. It was so important for me to find a mentor and coach who listens, holds space and is action oriented. While Kanwal teaches to slow down she also teaches how to take action and continue moving forward despite difficulties. She has taught me how to sit with my "discomfort" and how to honor my emotions. I have been suppressing and escaping the pain from ending relationships and heart-breaks and its been very unhealthy for me. Kanwal showed me the new way and I am grateful for that. I highly highly recommend working with her. She's AhHHHMAZZzING woman and coach. ❤️❤️❤️??????????
Charlotte
September 1, 2022
I loved every second of this. So quick, easy and useful to do for 5 days. I really needed this because I have been experiencing so much anxiety at work and feeling lost at the same time. I loved hearing your voice and felt like you were sitting next to me giving me the love and healing I needed. It was a beautiful journey. I am doing it again and oh yes, I can't wait to speak with you soon. Thank you for this gift ???????
Absolutely amazing journey to go on with you sweet sister. I have gotten so busy in life with my work, husband and kids that I really needed this right now. Just so I can relax and ease into everything that is happening so fast. This helped me reduced stress and become aware of how much I have been controlling and holding on. I need to let go and step into surrender. Thank you creating space for me to just be.
Charts
Price
Rating
Enrollment distribution
8/25/2022
course created date
9/2/2022
course indexed date