1Z0-1067-21 OCI Cloud Operations Associate [Practice Tests]
1Z0-1067-21 Oracle Cloud Infrastructure 2021 Cloud Operations Associate practice test series.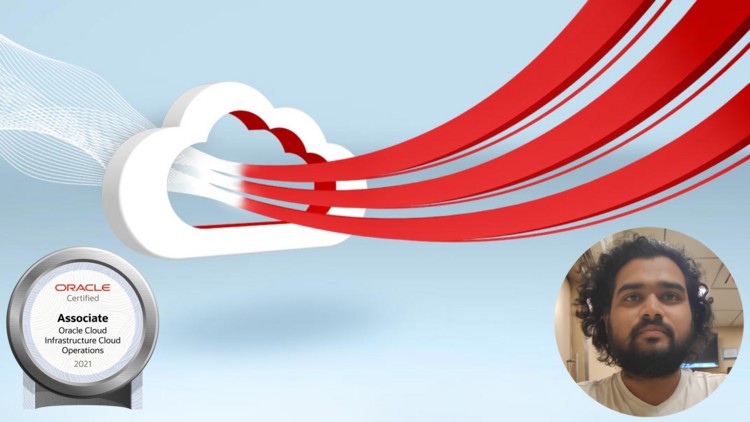 What you will learn
To clear OCI 1Z0-1067 Cloud Operations Associate 2021 Certification
Basics of OCI
Practice of Exam question
Preparation of Exam
Description
OCI 1Z0-1067 Cloud Operations Associate 2021.
All latest questions are updated to clear the OCI Cloud Operations Associate Exam.
Enroll before 28th Feb 2022 and get your free certification!!!

We have 55 questions in the practice test just like the real exam. Also, an additional test paper has been added where we have questions topic-wise for knowledge check with 30 questions.

Criteria to pass
Format: Multiple Choice
Duration: 90 Minutes
Number of Questions: 55
Passing Score: 70 %
Topics covered

Automating Cloud Tasks
Use the OCI CLI to simplify repetetive tasks

Utilize configuration management tools to control infrastructure

Manage infrastructure as code

Explain user resource manager processes to implement infrastructure as code
Performance Tuning and Troubleshooting
Explain Troubleshooting resource availability and accessability

Validate OCI performance
Managing Cost
Utilize billing tags to track cost

Explain how to Implement billing alerts

Leverage automation to control cost
Security and Compliance
Create secure access control policies

Leverage compartments for resource isolation

Audit cloud access

Utilize CASB to remediate security vulnerabilities
Monitoring and Alerting
Understand Metric Query Language (MQL)

Create and managing alarms

Implement automated notifications
Data Retention and Archival
Use Object Storage Lifecycle policies for tiered data storage

Manage automated block storage and database backups

Implement cross-region data copy strategies
Designing for cloud-scale agility
Utilize edge services for automated failover / recovery

Implement hybrid network environments
All the topics on which questions can be asked are covered in this course. Answers to all the questions have been mentioned. Very helpful in clearing Cloud Operations Associate 2021 exam.

Additional Preparation and Information
You can go on Oracles website they have excellent documentation and material to prepare. Try to do hands-on and practice. With this test series in addition you are guaranteed to be passing in your first attempt.


There is a special offer on certification on Oracle's website
Take OCI Certification Exams FREE till 28-Feb-2022. Register NOW!

Good Luck with your Exam!!!
Reviews
El examen tiene todas las preguntas, pero muchas respuestas están incorrectas, aproximadamente un 60% es el correcto, debería arreglar las respuestas correctas. Decepcionante.
Bijayadhar
February 15, 2022
Not Sure. 2 Answers given contradicts. For the retention of Audit logs. 4-5 Questions are repeated from Practice-1.
Dharmesh
February 14, 2022
More than 95% question were from this dump , yet i Failed and score only 66%. Seems answer are incorrect in this Practice Test.
Kindly add proper explanation for each answer, it will be helpful. Also, >15 questions' answers are still wrong, please correct them.
12/28/2021
course created date
1/3/2022
course indexed date