14-day English language fluency course
You will improve your spoken English in just 2 weeks!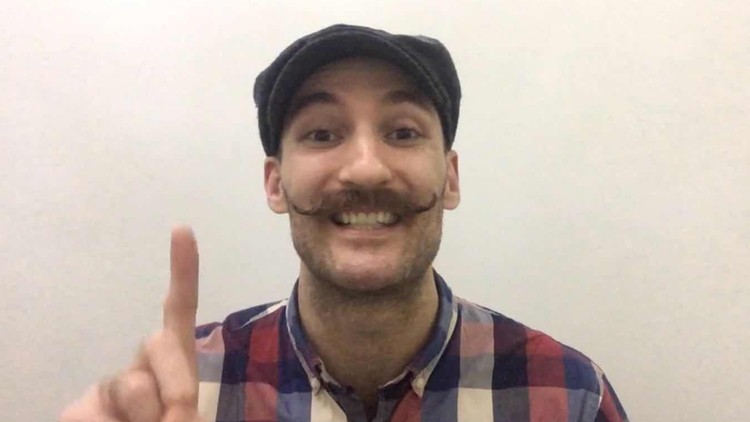 What you will learn
Be able to speak fluently about 14 common topics.
Learn more than 100 new words.
Description
Are you struggling to speak English?
Have you spent hours learning new words, studying grammar, watching English movies, listening to English music and now you wonder why you can't use all of this knowledge in a conversation?
Well, here's your answer!
Speaking English is a skill- just like swimming. Can you learn swimming from a book? No. How about from a movie? No, again. You need to get into the pool and start doing the action. Speaking, like swimming, is an action.
So, the ONLY way to improve your spoken English is to speak.
That's where this course helps you!
How does this course work?
I have divided this course into 14 days. Each day has a new topic and each topic is divided into 4 short videos.
The first video will introduce 8 words or terms. In this video I will explain the meaning of these words and provide an example of how it can be used in a sentence. At the end, we will review the vocabulary.
In the second video I provide an example speech of the topic. In this video I use the words from video 1 to make a speech. This allows you to see me using the vocabulary.
The third video is the most important video. In this video I give you a chance to make a speech using the vocabulary of the topic. But there is one rule:
You can't say: umm, ahh, enn or any other vocal-filled pause or interjection.
Why?
Well, this is a fluency course. If you always need to stop and think about what to say next, then you're not speaking fluently. If you do break the rule, simply stop and start your speech again.
The final video is a dictation test. Listen to me say the words from the topic and write them down. Then, compare your spelling with the actual spelling of the words.
Can I really improve my spoken English with this course?
I believe you can. I have used this method with literally hundreds of students and have seen my students' speaking ability improve dramatically.
Why should I choose this course over other courses?
Price.
Firstly, it's free (for the moment) so you have nothing to lose.
Enthusiastic teacher.
Secondly, I think I teach this course in an enthusiastic way and hope that this enthusiasm spreads to you. I believe that if you want to learn anything, you must be enthusiastic or you will simply give up.
There is a finish line that you can see.
By knowing that this course is only 14 days, I hope that it provides you with the feeling that it is short sprint and not a marathon.  
Consistency is key (or king).
It's much more effective to study a few minutes a day than to study for a few hours once or twice a week. I want English to be your hobby that you enjoy not your habit that you hate. By only studying for a few minutes a day (but doing it every day) it is less likely that you will come to hate learning. 
Remember what you learn.
I believe that quality is more important than quantity. My rule as an ESL/EFL teacher is to teach between 5 to 10 words per 1-hour class. This is because how many words you study is not important. Only how many words you can use is the number that we should care about. I see many students trying to remember 30 or even 50 words a day! But, the sad thing is the next day they may only remember 4 or 5. I will teach you vocabulary in a way that allows you to retain the vocabulary that you learn.
Develop a habit for learning.
Finally, many people say that it takes 2 weeks to develop a habit. I hope this course will provide you with the framework to develop a habit of study. While this is my only course (at the moment) here on Udemy, there are many other fantastic courses on here to study. I hope that you can use this course as a stepping stone for your continued growth.
Sign up now and start speaking right away!
So, if you want to learn to speak English more fluently whilst getting your hands on some useful vocabulary, then why not try my 14-day English language fluency course? You have nothing to lose and you will be very glad you did.
Thank you and see you soon,
Joel
Content
Day 1- Family
Vocabulary
Day 1 quiz
Example
Speech
Dictation test
Day 2- Food
Vocabulary
Day 2 quiz
Example
Speech
Dictation test
Day 3- Friends
Vocabulary
Day 3 quiz
Example
Speech
Dictation test
Day 4- School
Vocabulary
Day 4 quiz
Example
Speech
Dictation test
Day 5- Work
Vocabulary
Day 5 quiz
Example
Speech
Dictation test
Day 6- Hobbies
Vocabulary
Day 6 quiz
Example
Speech
Dictation test
Day 7- Entertainment
Vocabulary
Day 7 quiz
Example
Speech
Dictation test
Day 8- Hometown
Vocabulary
Day 8 quiz
Example
Speech
Dictation test
Day 9- Sport
Vocabulary
Day 9 quiz
Example
Speech
Dictation test
Day 10- Weather
Vocabulary
Day 10 quiz
Example
Speech
Dictation test
Day 11- Travel
Vocabulary
Day 11 quiz
Example
Speech
Dictation test
Day 12- Shopping
Vocabulary
Day 12 quiz
Example
Speech
Dictation test
Day 13- Festivals
Vocabulary
Day 13 quiz
Example
Speech
Dictation test
Day 14- You
Talk about yourself
Conclusion and thank you!
Conclusion and thank you!
Reviews
Great course to achieve fluency, I learned a lot of vocabulary, and I practiced my speaking with all the speach I had to made. I definitely recommend this course!!!
I was always wondering about this method of studying. I always studying, grammar and writing to improve my skills, but even though I took a lot of courses, I couldn't be able to speak easily. I know the words but it can't pop pop into my mind, while I try to speak out to express my thoughts so I believe this method will be better to improve my speaking.thank you.
This course has a simple concept, but I think it's very good for practicing and improving the language...
I believe that this course is perfect for learners at the beginner level in English. For intermediate levels, this course is encouraging, but you need something more advanced to improve your speaking.
I am leaving this rating as it is a very good introduction to English sentences, proper use of conjunctions and simple discussion terms. More will be required in just 3 disciplined crash course.
He speaks slowly but surely. I can understand him even though that he is not an American. He can communicate well.
Muy buen desarrollo de los temas y muy buena dicción. También muy valorable que este curso sea gratuito.
başlarda hangi kelimelerin öncelikli geldiğini anlamasam da dersin sonunda oluşan kelimeleri gözden geçirelim yeri sayesinde kolaylıkla kelime haznemi geliştirebiliyorum teşekkürler.
Estrella
December 16, 2022
In my opinion, I could improve my speaking skills in a speech and use this technique in others contexts.
I think it's a great course to learn some of vocabulary and improve the fluency. I like it. I learn a lot but I need more practice and studying much! :)
I appreciate and congratulate Sir Joel South that this course encourage me to learn English. I would say now that English is easy not difficult. Thanks dear Sir
por que el profesor tiene una pronunciacion, vocalización perfecta y una velocidad que me permite entender todo lo que habla
I think the teacher speech is very clear and understandable. that's why I liked this course so far. thanks for everthing joel teacher
He is awesome man, thank you for first lesson. I hope next videos will more be good. He is look like my immediate family :)
Francisco
October 18, 2022
This course is being a good experience. I can feel that I found the correct form of speaking. Thanks to this course.
Charts
Price
Rating
Enrollment distribution
1/12/2018
course created date
6/15/2019
course indexed date